Tony Blair put pressure on South Africa to take military action to topple Zimbabwean leader Robert Mugabe, the country's ex-president has claimed.
The former prime minister has strenuously denied that he plotted to topple the ageing Mugabe, when the country was rife with bloodshed and economic instability during the mid-to-late 2000s.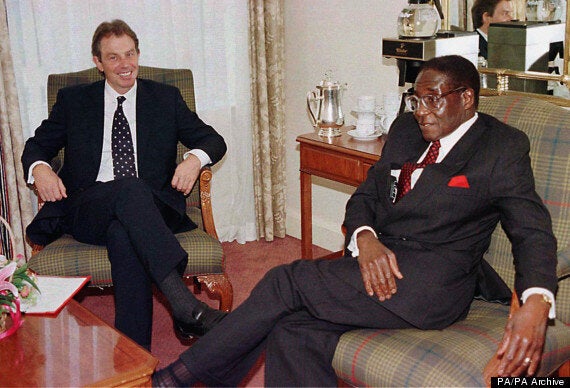 Tony Blair and Robert Mugabe of Zimbabwe, seen here at the beginning of talks at the start of the Commonwealth Heads of Government Meeting in 1997
"Tony Blair has long believed that Zimbabwe would be much better off without Robert Mugabe and always argued for a tougher stance against him, but he never asked anyone to plan or take part in any such military intervention," Blair's spokesman told AFP in London.
"Tony Blair... was saying to the chief of the British armed forces: 'You must work out a military plan so that we can physically remove Robert Mugabe,'" Mbeki told Al Jazeera earlier this month.
"We knew that because we had come under the same pressure, that we need to cooperate in some scheme. It was a regime-change scheme even to the point of using military force."
"Why does it become a British responsibility to decide who leads the people of Zimbabwe?"
Zimbabwean media have disputed Mbeki's claims, pointing out that Blair had given Mbeki has full support to mediate the disputes in Zimbabwe, stressing that he said at the time that the "solution comes from within this region of Africa".
Lord Charles Guthrie, a retired army chief, said in an interview in 2007 that Blair had considered invading the country as a descent into civil law looked increasingly likely, with Tsvangirai imprisoned.
Mugabe has frequently attacked British politicians, and Blair was no exception, telling him: "It's not the right or responsibility of the British to decide on our elections. We don't decide on their own and why should they poke their pink noses in our business?
"What's this latter day Blair imperialism? We will defeat Blair."