Manchester United legends hit the red carpet on Sunday night for the premiere of the new Class of '92 documentary.
Ryan Giggs, Paul Scholes, David Beckham, Nicky Butt and Gary Neville were present along with Phil Neville, who was not a part of the unforgettable FA Youth Cup winning side 21 years ago.
The younger Neville was involved in the 1993 final defeat to Leeds but skippered United to Youth Cup glory in 1995 - the same year he made his first-team debut.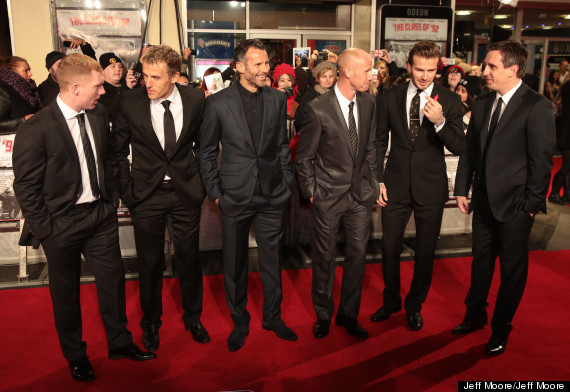 United's class of '92 - and Phil Neville
Both he and Ryan Giggs had earlier watched on from the sidelines as United drew 2-2 at Tottenham, while Gary Neville had earlier commentated on Chelsea's 4:10pm kick-off with Southampton.
Beckham said he expects his mother to cry when she watches a film about his time at Manchester United.
The former England captain contributed to the feature-length documentary, which focuses on the Old Trafford side's emergence into the first-team up until their 1999 Treble triumph.
The film examines the difficult period in Beckham's life after he was sent off at the 1998 World Cup.
Speaking at the premiere of The Class of 92 at London's Leicester Square, he said: "There will be a few tears in there from my mum I'm sure."