China could be set to invest some of its significant economic might in the controversial HS2 rail project and a new generation of nuclear power stations in the UK, its premier suggested during David Cameron's visit to Beijing.
Speaking after talks with Cameron on the first day of the Prime Minister's visit to China, Premier Li Keqiang said the two sides had agreed to "push for breakthroughs" on nuclear power and high speed rail.
Cameron declared his intention to champion a free trade agreement between the European Union and China, which he believes could be worth tens of billions of pounds a year - with a potential £1.8 billion boost for the UK alone.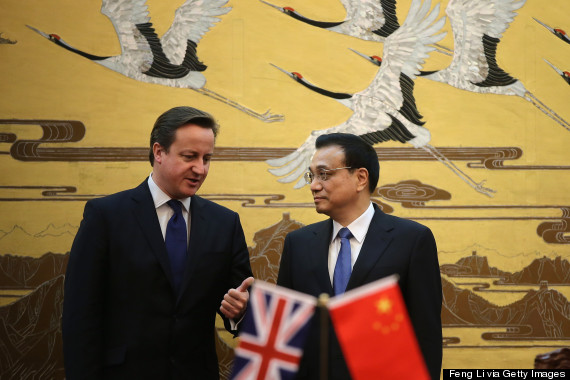 Chinese Premier Li Keqiang (R) and British Prime Minister David Cameron
He accused EU states which are resisting the proposal out of fear that their markets will be flooded with cheap imports of trying to shut China off behind a "bamboo curtain" of trade barriers.
Speaking to reporters on his flight to Beijing, Mr Cameron acknowledged that there were "sceptics" about a free trade deal among EU members, but pointed to the "massive success" of a similar deal with South Korea as he said: "I think the enthusiasts have the wind in our sails."
He added: "Free trade agreements bring massive win-win advantages to both sides and as the leading free-trade, open, investing nation in Europe, we should be making that argument.
"I'm not embarrassed that China is investing in Britain's nuclear power and has shares in Heathrow Airport or Thames Water or Manchester Airport. I think it's a positive sign of economic strength that we are open, we welcome Chinese investment."
The two men stood alongside one another to make statements to reporters after their talks in the Great Hall of the People in Beijing, but did not take questions.
Li said: "On infrastructure, the two sides have agreed to push for breakthroughs and progress in co-operation on our enterprises in nuclear power and high-speed railway.
"The Chinese side is willing to not only participate but also purchase equities and stocks in UK nuclear power projects, and the UK side is open to this idea."
David Cameron was treated to delicacies of Chinese cuisine as guest of honour at a banquet hosted by Premier Li Keqiang on the first day of his visit

MENU

Creamy mushroom soup

-

Chinese-style beef steak

Bamboo fungus with green veg

-

Boiled sea bass

-

Pumpkin cream with sago

-

Pastries

Fruits

-

Chinese wine
Li and Cameron also announced that they had agreed a £200 million joint innovation and research fund to foster scientific collaborations.
The Premier characterised the talks as "highly productive" and said that Britain and China had become "indispensible partners for each other's development."
"I believe our meeting will usher China/UK relationship onto a new stage," said Li. "We need to grow this relationship at a higher speed. We can take this relationship to a higher stage at a faster pace."
Speaking ahead of his visit last week, Cameron made clear he was hopeful of securing investment in HS2 from Beijing, telling Chinese media: "I'm very interested in what's happening in terms of high speed rail in China. It seems to be an absolute high speed revolution taking place... In terms of HS2, I very much welcome Chinese investment into British infrastructure.
Today, he indicated he is ready to take on opposition in the EU to a free trade deal with China.
"I see China's rise as an opportunity not just for the people of this country but for Britain and the world," said Cameron.
"Britain wants China to realise its dream and I believe we can help each other succeed in the global race.
"Some in Europe and elsewhere see the world changing and want to shut China off behind a bamboo curtain of trade barriers. Britain wants to tear these trade barriers down.
"An open Britain is the ideal partner for an opening China... No country in the world is more open to Chinese investment than the UK."
Cameron promised to "champion an EU-China trade deal with as much determination as I am championing the EU-US trade deal".
Ministers travelling with Cameron as part of the biggest UK business delegation ever to visit China signed a total of 10 treaties and agreements to co-operate on issues ranging from tackling cross-border crime to bilateral investment, healthcare, patents and digital media.
Tibet was not mentioned by the two leaders in their statements.
But Li said that China "appreciated" Cameon's confirmation that the UK respects China's sovereignty and territorial integrity.
Cameron revealed that a new round of the UK-China human rights dialogue will take place early next year.
And he said: "The full range of reform challenges should be part of our discussions, including those issues where we have differences. We should approach these with mutual respect and understanding, as we did today."
Cameron's painstakingly-constructed schedule for the three-day visit had to be torn up at the last minute, after the Chinese invited him to separate lavish meals with President Xi and Premier Li on the same day.
Downing Street portrayed the invitations as an indication of the value which Beijing places on close relations with the UK and Cameron declared himself "delighted" to secure lengthy discussions with the two men who are expected to lead China through the coming decade.
The changes meant dropping a visit to Hangzhou, but Cameron will still travel to China's international financial hub Shanghai and the inland city of Chengdu in Sichuan province, a global centre for consumer electronics.
Plans for the visit were delayed by many months by China's frosty response to Cameron's meeting with the Dalai Lama in London last year, and Beijing issued its invitation only after Downing Street made clear he had no plans to meet the Tibetan spiritual leader again.
Ahead of his talks with Mr Li, Cameron visited a new training academy for technicians, salesmen and service staff for Jaguar Land Rover, who were signing a £4.5 billion agreement to provide 100,000 cars over the next year.