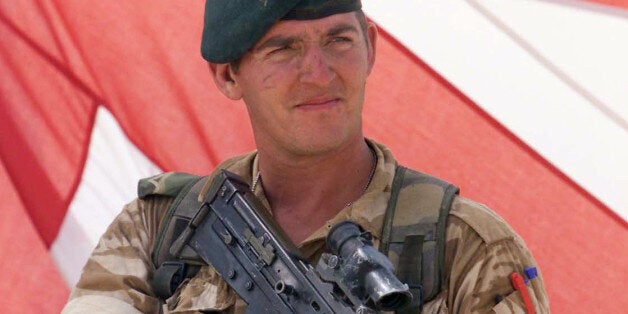 An experienced Royal Marine says he is "devastated" at being handed a life sentence for executing in cold blood an injured Taliban fighter.
Sergeant Alexander Blackman, 39, will serve at least 10 years' imprisonment for murdering the Afghan national in Helmand province in 2011.
The married commando, known to friends and family as Al, said he was "very sorry" for his actions, which were filmed on the headcam of a comrade during the fateful patrol in "the most dangerous square mile in Afghanistan".
At the court martial in Bulford, Wiltshire, Blackman, a respected senior non-commissioned officer with 15 years' experience, was "dismissed with disgrace" from the Royal Marines.
Speaking after Blackman was led away to begin his sentence in a civilian prison, his solicitor Issy Hogg thanked the public for the support they have shown to him and his wife.
"Sgt Blackman and his wife are devastated by the life sentence imposed upon him together with the order that he serve a minimum of 10 years before he is eligible for parole," she said.
"Furthermore, he has been dismissed with disgrace from the Royal Marines, with whom he has served proudly for 15 years.
"He is very sorry for any damage caused to the Royal Marines. Finally, Sgt Blackman thanks the public for the support shown to him and his wife."
Miss Hogg added that Blackman, who until yesterday was known as Marine A when judges at the High Court in London ruled he should be named, intends to appeal.
Blackman was convicted last month following a two-week court martial in which his two co-accused, known only as Marines B and C, were acquitted of murder.
The killing happened five months into an arduous six-month tour of Helmand province in 2011 with Plymouth-based 42 Commando, known as Operation Herrick 14.
Blackman shot the Afghan, who had been seriously injured in an attack by an Apache helicopter, in the chest at close range with a 9mm pistol before quoting a phrase from Shakespeare as the man convulsed and died in front of him.
"There you are. Shuffle off this mortal coil, you c***. It's nothing you wouldn't do to us," Blackman told him.
Blackman, a 6ft 3in physically imposing marine, then turned to comrades and said: "Obviously this doesn't go anywhere, fellas. I just broke the Geneva Convention."
He told the court martial that he fired his gun out of anger but insisted the insurgent was already dead and explained why he fired: "Stupid, lack of self-control, momentary lapse in my judgment.
"I thought about it over the last year as we get towards these proceedings but I cannot give any other reason than to say that it was poor judgment and lack of self-control. I thought he was dead."
The court heard a glowing reference from Blackman's commanding officer who said the sergeant was being considered for promotion.
Lieutenant Colonel Simon Chapman pledged his "full support" to Blackman - describing him as "a normal citizen tainted only by the impact of war".
"His momentary and fatal lapse of judgment on the battlefield two years ago not only served to end an enemy combatant's life prematurely, but it has also altered his own life, and that of his family, immeasurably," Lt Col Chapman said.
"He had so much to behold - a proud career and a promising future. Sadly, this is no longer the case. But, fundamentally, he is not a bad man. In fact, in almost every respect, he is a normal citizen tainted only by the impact of war."
Anthony Berry QC, for Blackman, called for leniency on the grounds of the "exceptional circumstances".
"It is no exaggeration to say that sergeants like Blackman in the British Army and the Marines really form the backbone of the individual operations which they are required to undertake," he said.
But sentencing Blackman, Judge Advocate General Jeff Blackett said the commando had betrayed the armed services.
"You treated that Afghan man with contempt and murdered him in cold blood," the judge said.
"By doing so you have betrayed your corps and all British service personnel who have served in Afghanistan and you have tarnished their reputation.
"In one moment you undermined much of the good work done day in day out by British forces and potentially increased the risk of revenge attacks against your fellow service personnel.
"Your actions have put at risk the lives of other British service personnel. You have provided ammunition to the terrorists whose propaganda portrays the British presence in Afghanistan as part of a war on Islam in which civilians are arbitrarily killed.
"That ammunition will no doubt be used in their programme of radicalisation. That could seriously undermine the reputation of British forces and ultimately the mission in Afghanistan.
"Committing this sort of act could well provoke the enemy to act more brutally towards British troops in retribution or reprisal.
"You have failed to demonstrate the self-discipline and restraint that is required of service personnel on operations, and which sets British troops apart from the enemy they fight."
The judge added: "It is also very important that this court sends out a very strong message that while this sort of offence is extremely rare, if not unique, those service personnel who commit crimes of murder or other war crimes or crimes against humanity while on operations will be dealt with severely.
"This is a message of deterrence but it is also to reassure the international community that allegations of serious crime will be dealt with transparently and appropriately."
After the sentencing, the Ministry of Defence released a short statement saying: "Throughout this case the Ministry of Defence has followed the independent legal process and a sentence has now been delivered.
"We respect the authority and decision of the court and it would be inappropriate of us to comment on the sentence."