North Korean despot Kim Jong-un has unceremoniously purged his powerful uncle from his inner circle, with concerted media campaigns denouncing his alleged drug abuse, gambling and sexual indiscretions.
So furious is the leader of the hermit nation with Jang Song-Thaek's "dissolute and depraved" behaviour that the state news agency has photoshopped him out of photos and begun removing his name from previous news reports.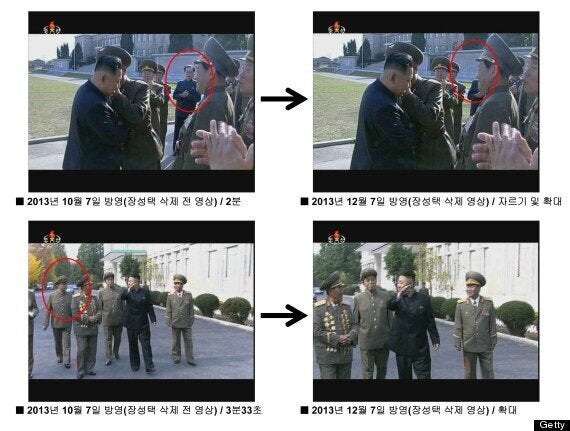 Photoshopped images now on the KCNA website
TV images broadcast in South Korea showed Jang, the former vice chairman of North Korea's National Defence Commission and as a department head of the ruling Korean Workers' Party, being forcibly hurled from the Pyongyang government building, after a meeting was held to decide his fate.
Korean Central News Agency, the state media agency, did not mince its words to describe Jang's dismissal, saying the meeting "fully laid bare the anti-party, counter-revolutionary factional acts of Jang Song Thaek and their harmfulness and reactionary nature".
"Jang pretended to uphold the party and leader", the report said, but was "engrossed in such factional acts as dreaming different dreams and involving himself in double-dealing behind the scene.
"Jang desperately worked to form a faction within the party by creating illusion about him and winning those weak in faith and flatterers to his side.
"Jang and his followers committed criminal acts baffling imagination and they did tremendous harm to our party and revolution." Jang Song Thaek was grabbed during an emergency meeting
Jang had been "affected by the capitalist way of living", the bulletin said, and was "engrossed in irregularities and corruption, had improper relations with several women and was wined and dined at back parlors of deluxe restaurants."
The Guardian reported that two of Jang's close aides are believed to have been executed, and one has sought asylum in Seoul, South Korea.
The Kyunghyang Shinmun newspaper said the man in question was being protected by South Korean authorities, but is currently in a secret location in China.