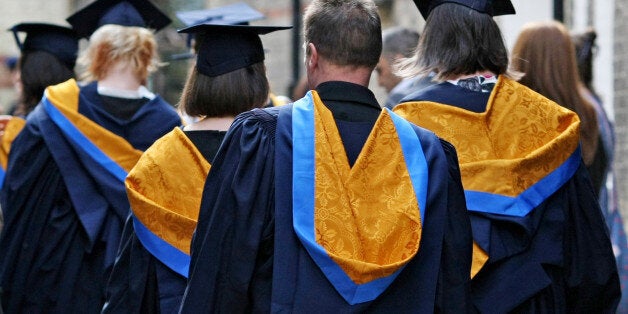 Gender segregation at university would be "outlawed" by Labour, according to the party's shadow business secretary, despite a universities leader insisting the practice is not completely "alien to our culture".
Nicola Dandridge, the chief executive of Universities UK, insisted that institutions would not enforce segregation but if participants were happy to sit in separate groups that would be permitted as long as there was no disadvantage.
The row over segregation has sparked protests from students and shadow business secretary Chuka Umunna said he was "horrified" by Universities UK's position.
Last month a Universities UK report report presented some hypothetical case studies which come up on campuses, including whether a speaker from an ultra-orthodox religious group requests an audience is segregated by gender.
The report states that university officials must consider both freedom of speech obligations and discrimination and equality laws when considering such a request.
It says that if officials decide to proceed with an event with segregation, they must consider whether a seating plan would be discriminatory to one gender.
For instance if women were forced to sit at the back of the room it could prove harder for them to participate in the debate and could be discriminatory for the female attendees.


But it goes on to say that if side-by-side seating were enforced without offering an alternative non-segregated seating area, it could be deemed as discriminatory against men or women who hold feminist beliefs.
Ms Dandridge told BBC Radio 4's Today programme: "We are not talking about universities enforcing segregation. One of the questions that runs through our case study which illustrates this questions is 'is this segregation voluntary, have the people who are likely to come to this event agreed to the segregation'.
"That is something that would be fundamentally important to the university in making a decision. In practice if the people coming to this event said 'we do not want to segregate and separate out men and women' it is inconceivable that the university would impose it on them.
"What we are talking about in practice is voluntary segregation and that's what happens in practice if people participating choose."
Rejecting comparisons to racial segregation, she said: "It is possible for women to choose to be educated in an all-women environment. It's not something which is so alien to our culture that it has to be regarded like race segregation, which is totally different and it's unlawful and there's no doubt about that whatsoever."
She said that a university would prevent an event going ahead if there was pressure being put on women to sit in certain places.
Ms Dandridge added: "What is very uncomfortable about this argument is you are assuming that we have the right to impose views on participants. If the participants say this is how they want it to be, it is not appropriate for us to disregard their views.
"If people feel more comfortably about sitting separately, and that's invariably the situation that will arise in these cases, then universities have to listen to those views.
"We are not talking about teaching, lectures, the core business of universities. This particular case study is very specific: it's talking about an event to discuss faith in the modern world in the course of a series of lectures about different approaches to religion."
She said she was happy to publish legal advice and added: "What the law says is that segregation on the grounds of gender may or may not be a disadvantage. What this case study is exploring is when it may be a disadvantage and where it may not be.
"In circumstances where the audience is saying that they prefer to sit in different groups then we are saying that universities should respect their views providing - and this is critical - providing that there is no disadvantage to either men or women."
"This is about ensuring that everyone has the right to sit where they want, including those who wish to sit in separate areas. That element of voluntary choice is really critical, it's not a question of imposing views on students here."
Mr Umunna told Today a future Labour government would outlaw segregation on campus.
He said: "I was horrified by what I heard ... let me be absolutely clear, a future Labour government would not allow or tolerate segregation in our universities.
"It offends basic norms in our society. Of course people should be free to practise their religion privately in places of worship and at religious events.
"But universities are publicly funded places of research, learning and teaching and, as such, there is no place in my view for state-sponsored segregation."