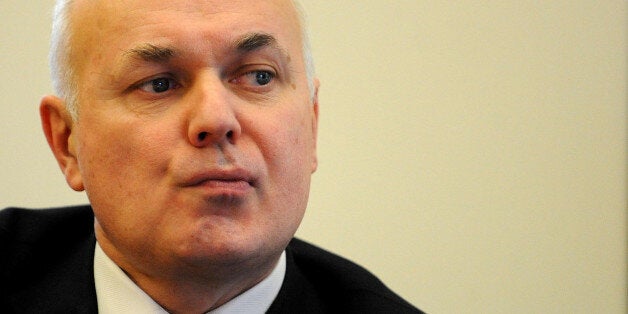 Iain Duncan Smith has unveiled a new "strict" test for migrants looking to claim income-related benefits, which will see them tested on their English language skills and what they have done to find work.
Migrants will have to say whether their English language skills will hamper their ability to find work, as well as provide more detailed answers to a wider range of questions, in changes which are set to be rolled out at jobcentres across England, Wales and Scotland next week.
In a press release, the work and pensions secretary said: "It is vitally important that we have strict rules in place to protect the integrity of our benefits system."
The reforms will aim to clamp down on "benefit tourists", by toughening up of the "habitual residence test", which was introduced in 1994 to stop the benefits system from being abused by migrants "with no intention to settle".
Duncan Smith added: "The British public are rightly concerned that migrants should contribute to this country and not be drawn here by the attractiveness of our benefits system. And we are taking action to ensure that that is the case.
"The roll-out of the new habitual residence test is the first in a series of measures to ensure that we have a fair system: one which provides support for genuine workers and jobseekers, but does not allow people to come to our country and take advantage. It is a crucial part of our long-term plan to secure Britain's economy."
The toughened test could be challenged by the European Commission, which is already taking Britain to court over the existing test which it argues discriminates against other EU nationals' right to claim benefits in the UK.
A European Commission official said: "The purpose of the habitual residency test is determining where a person's centre of interest is located, which has nothing to do with language."