The snow that has blanketed much of the Middle East turned Cairo white on Friday - with local news reports claiming it was Egypt's capital's first snowfall in 112 years.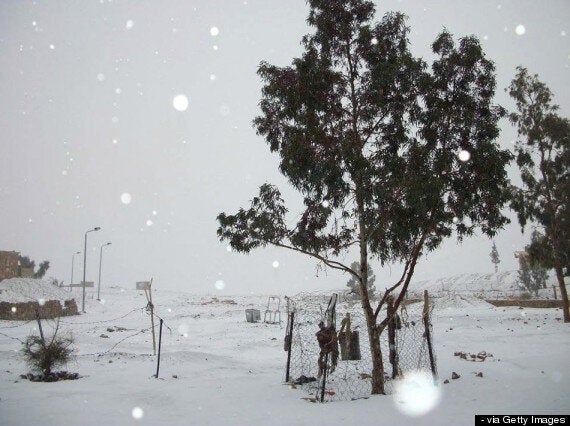 Snow covers the scene in Egypt's Sinai Peninsula
The city averages less than an inch of rain each year, and hundreds stopped their walk to work or school to snap pictures of the falling flakes, tweeting their delights.
In Jerusalem, local media reported that schools and roads were closed, and transport suspended after four inches of snow - the most since 1953.
Palestinian and Israeli children shaped clusters into snowmen across the divided capital, with boys shrieking with delight as they put the finishing touches to a frosty man outside the gold-domed Al Aqsa mosque.
Snow, sleet and icy winds have covered Syria, Lebanon and Jordan, deepening the troubles of many war refugees, living in freezing tents. Many have melted snow on their stoves, their only source of drinking water.
Related