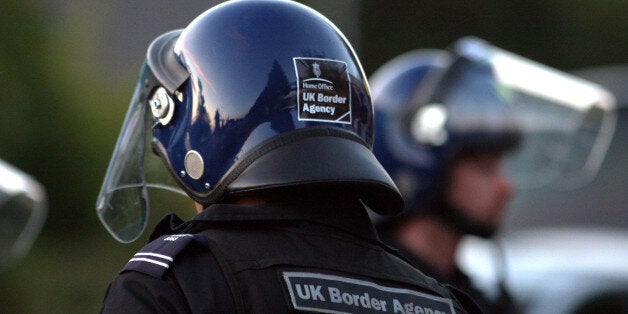 A leaked government report has shown the Home Office is considering capping immigration from EU countries at 75,000 and blocking newcomers from claiming benefits or tax credits for their five five years.
The document, seen by the Sunday Times, suggests a cap could cut net migration from EU countries by 30,000 from the current 106,000 a year.
The paper emerged just weeks before restrictions on the movement of Bulgarian and Romanian citizens are lifted at the end of the month.
The proposals would mean professionals and highly-skilled migrants from countries such as Germany, Holland or Austria could only move to the UK if they had a job offer.
Lower-skilled workers would be allowed to settle if they had jobs on an approved list of occupations for which there was a national shortage.
The leaked open borders review was overseen by Home Secretary Theresa May as part of the Government's assessment of the balance of powers between the UK and Brussels.
Other proposals in the paper include giving British citizens a "national preference" by explicitly reserving jobs for them and limiting labour movement from poorer countries joining the EU to the UK until their GDP is 75% of Britain's.
Last week David Cameron said tougher controls on freedom of movement within the EU will be needed in the future and suggested a GDP-based restriction.
The Prime Minister said: "When other countries join the European Union we should be insisting on longer transitions and perhaps even saying until you reach a proper share of an average European Union GDP you can't have freedom of movement.
"The reason for that is if you look at migration between Britain and Germany or France and Germany, countries of pretty even GDP, the movements are pretty much balanced.
"Its only when you have a real imbalance when you have a poor country and a much wealthier country that you get these vast movements."
With the restrictions on Bulgaria and Romania set to expire, Mr Cameron also acknowledged that "an influx of non skilled workers is a major cause of concern".
The proposals were labelled "ridiculous" by the Tories' pro-Europe coalition colleagues.
A senior Liberal Democrat source said: "This surely can only happen by leaving the EU? It seems ridiculous.
"Even the Tories don't think they can renegotiate to that extreme. The amount of British people it would impact would far outweigh the people they're trying to stop, and British business would be crippled.
"We just cannot see how anyone would think this is a good idea, unless their priority is cheap easy headlines.
Any attempt to challenge free movement rules would face resistance in Europe.
European Commissioner Laszlo Andor recently hit out at British politicians' comments about the lifting of restrictions on the two European states, saying on Twitter: "Responsible politicians should avoid legitimising xenophobic reactions that indeed weaken the European spirit."
He also served notice that the UK could be taken to court over existing proposals to tighten the rules on migrants claiming benefits.