Locked-in syndrome sufferer Tony Nicklinson's widow and a paralysed road accident victim take their "right-to-die" battle for a change in the law to the UK's highest court tomorrow.
Nine Supreme Court justices in London will hear the latest round of their fight over the legal ban on voluntary euthanasia.
They want to give people who are physically unable to end their own lives the choice of a ''dignified and humane'' death.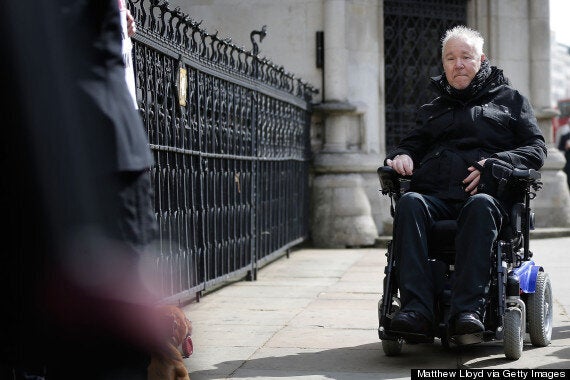 Paul Lamb, 58, arrives at the Royal Courts of Justice
The action has been brought by Jane Nicklinson, whose husband died in August 2012 after losing a High Court battle to end his life with a doctor's help, and Paul Lamb, who won the right to join the litigation to continue the case started by Mr Nicklinson.
They pledged not to give up after suffering a defeat at the Court of Appeal in July this year.
Appeal judges dismissed the Nicklinson and Lamb challenges over the legal ban on voluntary euthanasia, but in a majority ruling allowed an appeal by a locked-in syndrome sufferer known as ''Martin'', who had sought clarification of Director of Public Prosecution (DPP) guidance relating to the position of health professionals in assisted suicide cases.
After the July ruling, Mrs Nicklinson said: "We will carry on with the case for as long as we can so that others who find themselves in a position similar to Tony don't have to suffer as he did. Nobody deserves such cruelty.''
Former builder and father-of-two Mr Lamb, who lives in the Bramley area of Leeds, wants a doctor to help him die in a dignified way.
Mr Lamb is immobile except for limited movement in his right hand and has been in significant pain since his accident in 1990. He said after the Court of Appeal decision: "No retreat, no surrender, is my motto with all of this.''
In the ruling, the then Lord Chief Justice Lord Judge, sitting with Master of the Rolls Lord Dyson and Lord Justice Elias, said the law ''relating to assisting suicide cannot be changed by judicial decision''.
Parliament ''represents the conscience of the nation'' in life and death issues, he said, adding: ''Judges, however eminent, do not; our responsibility is to discover the relevant legal principles, and apply the law as we find it.''
It was submitted on Mr Lamb's behalf that ''the time has now come when the common law should provide a defence to murder where that takes the form of euthanasia'', at least in the circumstances he now faces and Mr Nicklinson had faced.
During the appeal hearing Paul Bowen QC, for Mrs Nicklinson and Mr Lamb, said that for those who have ''made a competent choice to end their lives, but who cannot physically act upon that choice without medical assistance, such as Tony Nicklinson before he died and Paul Lamb, the law of murder and assisted suicide constitute, for practical purposes, an insurmountable obstacle''.
Father-of-two Mr Nicklinson, 58, died at home in Melksham, Wiltshire, a week after he lost his High Court action.
Mr Nicklinson, who was paralysed by a stroke while on a business trip to Athens in 2005, had refused food and contracted pneumonia after he was ''devastated'' by the decision of Lord Justice Toulson, Mr Justice Royce and Mrs Justice Macur.
The complaint made by 49-year-old Martin, who cannot be named for legal reasons, was that the policy of the DPP ''fails to provide sufficient clarity'' as to the DPP's prosecution policy with respect to those persons who fell into the category of helpers who have no close or emotional connection with the victim - such as medical doctors and other professionals.
Law firm Leigh Day said that DPP guidance makes clear that friends or family members would be unlikely to be prosecuted - but Martin's wife does not wish to be actively involved in the steps necessary to bring about his death and he has no other friends or family willing to assist.
Martin, who suffered a massive stroke in August 2008, is unable to speak and virtually unable to move. He describes his life as ''undignified, distressing and intolerable'', and needs the assistance of a professional, most likely a doctor, nurse or a carer, to help him to die.
After the Court of Appeal judgment he said it meant he was "one step closer to being able to decide how and when I end my life".
Martin can end his own life but only with the assistance of a third party. Mr Lamb is ''so disabled that he cannot even commit suicide with assistance'', requiring a third party to terminate his life - the same position Mr Nicklinson was in.
The then Director of Public Prosecutions Keir Starmer QC said after the appeal court ruling: ''While I respect the carefully considered judgment of the Court of Appeal, I think it would be sensible for the CPS, if possible, to have the benefit of the views of the Supreme Court before any amendments are made to the DPP's guidelines in this important and sensitive area of the law."
In the Nicklinson and Lamb cases before the Supreme Court, the issue is whether the prohibition on assisted suicide in the Suicide Act 1961 is incompatible with their Article 8 right to respect for private and family life.
If the answer is yes, they argue that in order to comply with their Article 8 rights, the Suicide Act should be read as including a "defence of necessity" so that it would not be unlawful for a doctor to assist, or to have assisted, in the suicide of Mr Lamb and Mr Nicklinson where they had made a "voluntary, clear, settled and informed wish" to end their lives, but were unable to do so without medical assistance.
If no such defence is available they seek a declaration that the relevant section of the Suicide Act is incompatible with their Article 8 rights in so far as it prohibits assisted suicide in their circumstances.
The Supreme Court will also deal with the DPP's appeal against the Court of Appeal's ruling in Martin's favour.
Ms Nicklinson said the fact the case was being heard before nine judges meant it was being taken seriously.
She said it was important for her to finish her late husband's mission and, even if it was unsuccessful, it would pave the way for voluntary euthanasia to be legalised.
"I know that he'd be really pleased that we are seeing it through," she said.
"It should be a matter of choice. I've had people who are similar to how Tony was come and say they fully support us, even though it's not what they want.
"They understand why we're doing it and feel that it's the right thing. Your life should be in your own hands, not someone else's."
Ms Nicklinson said while there had been opposition to the cause, the general public was overwhelmingly in favour of it.