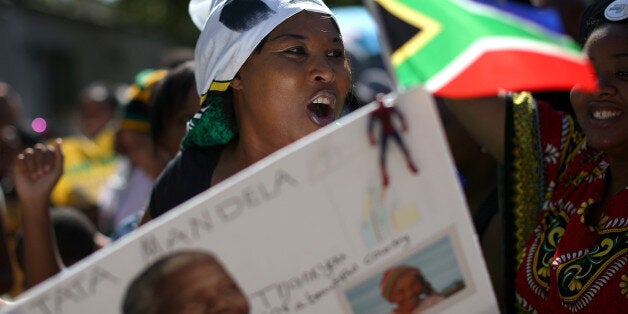 Nelson Mandela has been laid to rest in the remote South African village where he grew up.
More than 4,000 people, including family members, African leaders and several heads of state, attended the final farewell service in a specially erected marquee.
The Prince of Wales, who arrived in South Africa this morning, attended the service along with prominent US civil rights activist Reverend Jesse Jackson, entrepreneur Richard Branson and broadcaster Oprah Winfrey.
Jacob Zuma, the current president, described him as a "beacon of hope".
After the ceremony, his casket was carried by the military, accompanied by family and friends, up a hill to the graveside.
The burial marked the end of a week of memorial events which have attracted thousands of South Africans and world leaders.
STORY CONTINUES BELOW SLIDESHOW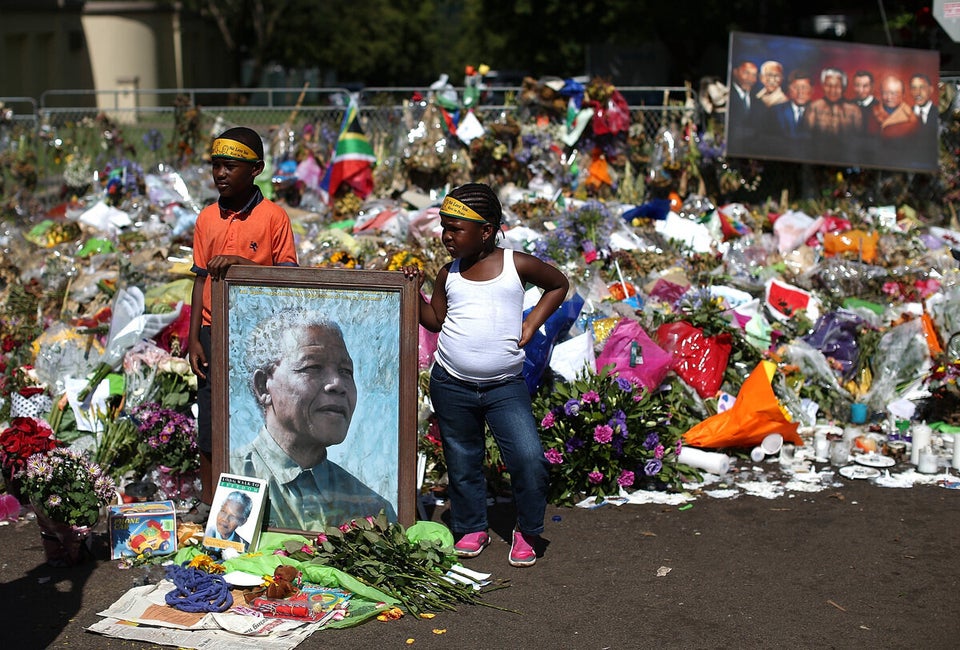 Nelson Mandela Funeral
Zuma said: "It is the end of an extraordinary journey that began 95 years ago.
"It is the end of 95 glorious years, of a freedom fighter, a dedicated and humble servant of the people of South Africa.
"Fountain of wisdom, a pillar of strength, and a beacon of hope for all those fighting for a just and equitable world order.
"Whilst your long walk to freedom has ended in a physical sense, our own journey continues.
"We have to continue working to build the kind of society you worked tirelessly to construct. South Africa will continue to rise."
And in an emotional speech, anti-apartheid campaigner Ahmed Kathrada spoke directly to the man with whom he was imprisoned on Robben Island for 26 years,
He said: "Your abundant reserves of love, simplicity, honesty, service, humility, care, courage, foresight, patience, tolerance, equality and justice continually serve as a source of enormous strength to millions."
Prince Charles, Richard Branson and Oprah Winfrey were among the global dignitaries attending the ceremony, the final farewell service for South Africa's first black president.
Mandela's body arrived in Qunu in the Eastern Cape region of South Africa yesterday as large numbers of people lined the roads to pay their respects as the cortege passed by.
Reading an obituary, Mandela's grandson Ndaba Mandela said the former leader became "one of the world's greatest icons".
"It is through Mandela that the world cast its eyes on South Africa and took notice of the severe and organised repression of black South Africans," he said.
"Yet it was also through Mandela that the world would learn the spirit of endurance, the triumph of forgiveness and the beauty of reconciliation."
In the Xhosa language, Mandela's granddaughter Nandi Mandela said: "Go well Madiba. Go well to the land of our ancestors, you have run your race."
She added: "We will carry lessons you taught us throughout our lives.
"As South Africans we must stop pointing fingers, but must rather lead by example, as you did."
The coffin, draped in the country's national flag, was taken on a gun carriage from Mr Mandela's house this morning to a giant white marquee that had been specially erected for the service.
Chief Ngangomhlaba Matanzima, a representative of Mandela's family, said: "A great tree has fallen, he is now going home to rest with his forefathers. We thank them for lending us such an icon."
Ahmed Kathrada, who was imprisoned on Robben Island with Mr Mandela, said: "Your abundant reserves of love, simplicity, honesty, service, humility, care, courage, foresight, patience, tolerance, equality, justice, continually serve as a source of enormous strength to many millions of people in South Africa and the world.
"Today, mingled with our grief, is the enormous pride that one of our own has during his lifetime and now in your death united the people of South Africa and the entire world on a scale never before experienced in history."
Preparations for Mandela's funeral were marred by a public spat between the South African government and retired archbishop Desmond Tutu, one of the most prominent survivors in the long anti-apartheid struggle.
Tutu, a Nobel laureate who has strongly criticised the current government, had said he was not invited - an apparent snub that the South African government vehemently denied.
The 95-year-old former leader, who was imprisoned for 27 years for opposing apartheid before emerging in 1990 to forge a new democratic South Africa, died on December 5.
Popular in the Community