Yet another incident is threatening to push Britain's already strained relationship with Argentina further into antipathy with the rejection of a complaint from London over threats made by Buenos Aires to impose heavy fines, the seizure of assets and even jail sentences to oil firms operating off the disputed Falkland Islands.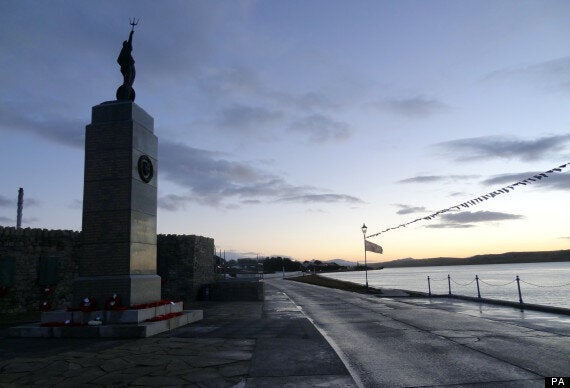 The Liberation monument in Stanley overlooking the sea
The Argentine congress passed a new law in November, which threatened any company working in the vicinity of the archipelago. The British government responded with a formal protest on Monday, delivered to the Argentine charge d'affaires Oscar Horacio Galli.
The foreign office subsequently described the threats as a "bullying tactic", adding that Argentina's move was a "baseless gesture intended to deter legitimate commercial activity".
However, on Tuesday Argentina's foreign ministry dispatched a response letter to the British Ambassador John Freeman arguing that the law applies to the waters around the islands as they form as "integral part of the Argentine territory" which is "unlawfully occupied" by Britain.
More from the Press Association:
The letter states: "The Argentine Government rejects the attempt by the United Kingdom to promote and authorize the exploration and exploitation of renewable and non-renewable natural resources in the area subject to the sovereignty dispute, which is a manifest violation of Resolution 31/49 of the United Nations General Assembly, which urges both parties to the dispute to refrain from introducing unilateral modifications in the situation while the Islands are going through the process recommended by the General Assembly.
"The United Kingdom's attempt to authorize hydrocarbon exploration and exploitation activities in the area subject to the sovereignty dispute is also in violation of the obligation to settle international disputes through peaceful means arising from Article 2, paragraph 3, of the Charter of the United Nations."
The letter dismisses the referendum in March this year, in which Falklanders voted by 1,513 to three in favour of remaining British, insisting that the result "does not in any way alter any aspect of the sovereignty dispute over the question of the Malvinas Islands, which remains unresolved because of the British Government's repeated refusal to comply with its obligation under international law to peacefully settle the dispute maintained with the Argentine Republic by resuming negotiations."