How far can you ride a Boris bike before the 24-hour rental limit expires? Pretty bloody far it turns out.
Three friends of the London Mayor managed to take one on a gruelling trip up a French mountain before returning it with 22 seconds to spare.
Matthew Winstone, Ian Laurie and Robert Holden paid the £2 daily hire charge for the bike, which they took from New Kent Road in Southwark, south London, at 3.58am on 26 October.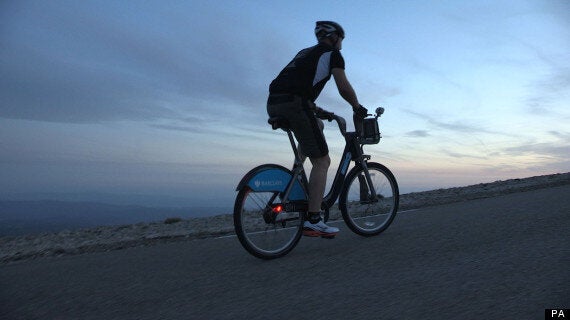 Robert Holden riding a Boris bike on a gruelling trip up Mont Ventoux
They then took it by van through the Eurotunnel and drove to Mont Ventoux, a Tour de France landmark, where Holden, from Teddington, south west London, pedalled the three-speed 50lb (23kg) bike to the top.
Mont Ventoux became infamous when cyclist Tommy Simpson died of exhaustion just short of the summit in 1967. Eddie Merckx needed oxygen after winning the climb in 1970 and this year Britain's Chris Froome took a famous stage victory there on his way to winning the Tour de France.
The group managed to get the bike back to London by 3.57am the following day - just in time to avoid the £150 Transport for London fee for going over 24 hours.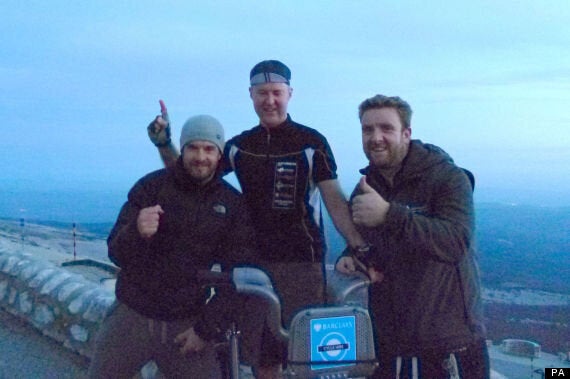 Ian Laurie, Robert Holden and Matthew Winstone
Their efforts have so far raised more than £3,600 for Macmillan Cancer Support which was chosen because Holden's father suffered from the disease.
Johnson said: "Huge congratulations to the trio who have conquered Mont Ventoux for charity and shown our Gallic cousins just how sturdy our city's hire bikes are.
"This was an astonishing feat of endurance made all the more remarkable by the breakneck speed at which they whizzed back in time to avoid getting a fine." The bike was returned with 22 seconds to spare
Winstone, who, like Laurie, comes from Kingston, south west London, said the idea came as the three friends went for a cycle ride and decided to see how far they could get a Boris bike in 24 hours.
He said: "We thought 'Let's get it somewhere that's a real cycling Mecca' - and it doesn't get much harder than the Ventoux for cycling."
The group filmed the challenge and the YouTube video has since gone viral, helping to boost their fundraising drive at justgiving.com/rob-holden1. Their trip started at 3.58am on October 26
Holden, who completed the 14-mile (22km) climb to the summit at 6,273ft (1,912m) in two hours and 55 minutes, said: "The ride itself was ridiculously hard. My whole body was in pain but I managed to fight on to the summit.
"With essentially one gear the whole way up, it was a struggle just keeping the pedals turning and there was a fair bit of weaving at the top. Having said all that, the weather was perfect, the mountain was awe-inspiring and I reached the summit at sunset, which was perfect."
Describing his motivation for the challenge, Holden added: "Two years ago my dad, Brian, was diagnosed with cancer. It was a shock; nothing like that had ever happened to our family and it suddenly made cancer a frightening reality.
"Fortunately, Brian has responded well to surgery and is so far doing well, but for many others the nightmare continues."