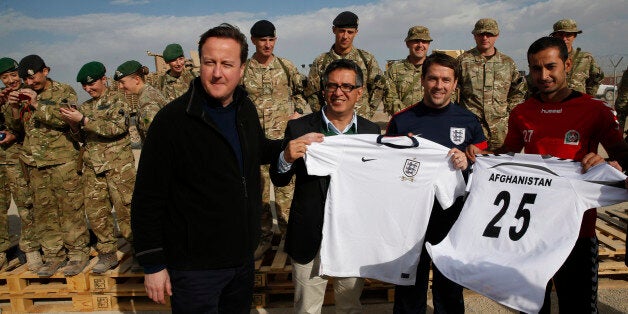 Once a red, now very much a blue, Michael Owen could be the punch-line for the current coalition government's legacy when the public vote for change in the future. For if England and Afghanistan's international friendly to mark the end of Britain's 12-year involvement in the Islamic Republic actually happens, it was Owen who incepted the concept.
"Fantastic," is how political doyen Owen modestly described his suggestion. "An excellent idea," remarked prime minister David Cameron. "A fantastic touch," added John Hartson. Yes, John Hartson.
Owen and Hartson's comments are so dim they barely justify analysis, yet Cameron's enthusiastic response highlights a tawdry idea to remember the end of a dispiriting 12-year war as if it was some sort of success.
Cameron has jumped onto so many bandwagons during his Premiership he must have lost track of which one he is currently riding. He vowed to "crush" racism months after the separate Luis Suárez and John Terry incidents and pointlessly offered his two cents on Suárez biting an opponent and Tottenham's "Yid" debate.
His knee-jerk alacrity has certainly clouded his already opaque judgement, as he hailed the Afghanistan War as "mission accomplished" earlier this week, despite the Taliban's ongoing fight, and there are brighter ideas to mask his support for the war.
"I'm sure that there will be many very dignified national events that should take place," the Prime Minister said.
"We can talk about that and discuss about that in the future but the idea of one part of it being a football match, I think, is a very nice idea and I'm very grateful to the football players for making the effort to come out and play the game today."
Should we put up the bunting as well?
That Wembley is the proposed setting only exacerbates this tawdry idea. Home to the most unconscionable stadium announcer in the country and bongo cam, portraying Britain's Afghan combat role some sort of military Live Aid would be a crass insult to those who suffered over the dozen years.