Lonely Planet via Getty Images
All toys sold at department store Marks and Spencer will be gender neutral from Spring 2014, the company has confirmed.
The news came via Twitter on Tuesday after a number of Christmas shoppers took to the social networking website to complain about the store's separate toy ranges for male and female children, accusing it of "casual sexism" and "gender segregation".
The initial tweet came from Jane Merrick, who said she had planned to buy her daughter the store's Marble Run game for Christmas - before realising it was listed under the header "boy stuff".
Labour and Co-operative MP for Walthamstow Stella Creasy also tweeted the store and on Tuesday afternoon its verified Twitter account confirmed the news.
@stellacreasy Hi Stella, we've listened to customer feedback and by Spring next year all of our toys will be gender neutral. Thanks

— M&S (@marksandspencer) December 17, 2013
A spokesman for the store tells HuffPost UK: "The decision was actually taken several months ago.
"After feedback from our customers, the Boy Stuff range will be rebranded with a graphic logo and the Little Miss Arty line will be renamed Poppy & Blue from Spring next year."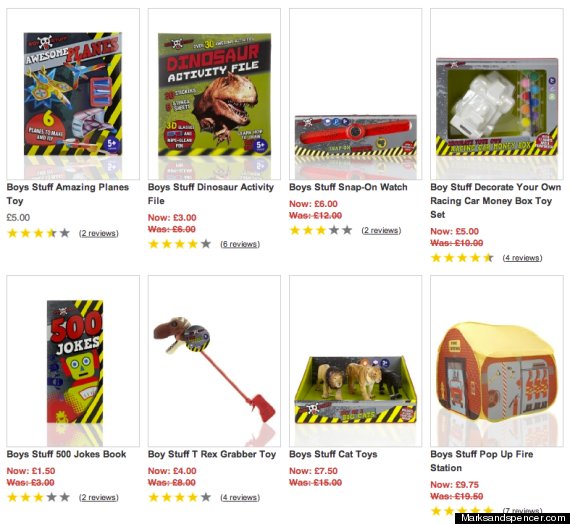 The store's current 'Boy Stuff' range as available online
SEE ALSO: