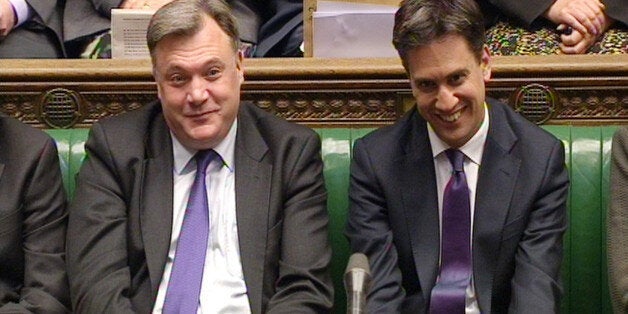 David Cameron targeted Ed Balls at prime minister's questions again today, amid reports that the shadow chancellor's job is at risk.
According to reports in The Sun and Daily Mail on Wednesday, Ed Miliband may decide to ditch Balls ahead of the 2015 election if the party's standing on the economy fails to improve. A shadow cabinet source insisted Miliband would "not let anything stand between us and the election, and that includes Ed Balls".
Taking a swipe at Balls during PMQs, Cameron told Miliband: "You don't need it to be Christmas to know when you're sitting next to a turkey".
Balls had been continuing his his favourite habit of making hand gestures at Cameron in order to wind the prime minister up and provoke an angry reaction.
Cameron hit back: "Ah! We've got a new hand gesture from the shadow chancellor." The prime minister added, waving his own hand: "I would have thought that after today's briefing in the papers the hand gesture for the shadow chancellor should be 'bye bye'."
After PMQs Balls defended his job performance to the BBC: "You need a chancellor who is tough and stands up to people. Thats my job. I'm good at it and I'll keep doing it."
Balls has been under pressure since his red-faced Commons performance during the Autumn Statement. Last week during PMQs Cameron told MPs that Labour had a "new duo" in charge. "Red Ed and redder Ed."
The prime minister told Balls: "We learned something, he can dish it out, but he can't take it. I tell you what's going down, his career, that's what's going down."
Related