Protesting students have accused their university of "stripping" them of basic human rights, cutting off electricity, toilet facilities and barring food supplies from being delivered.
Students at the University of Ulster are in the third week of a sit-in protest over privatising a communal space at their Coleraine campus. They told The Huffington Post UK locks had been changed and protesters were told to "come down or starve". One disabled student is dependent on others to carry her down the stairs if she wishes to leave as the lifts have been shut down and the wide exit barricaded.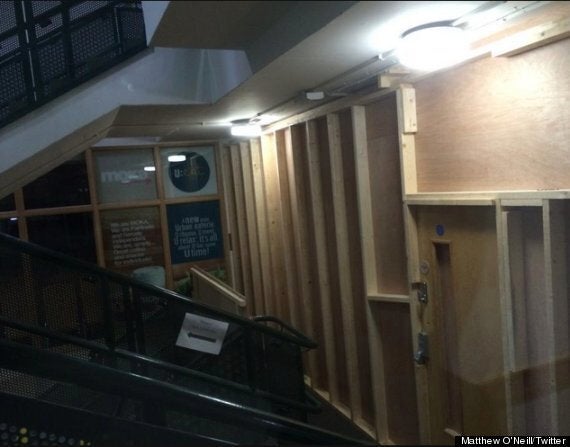 Students have been completely barricaded in to the senior common room
Around 25 students are taking turns to sleep in the senior common room space in protest at the university's plans to covert it into a "corporate dining suite" which only staff could access and would be closed to members of the community and students.
Chloe Gault, one of the protesters, told HuffPost UK the current room was "perfect" and did not need changing, and those who used it would lose a "wonderful" space if the changes were to go ahead.
"Yesterday [Wednesday] I had to leave the common room to go to work, there was really no way I could avoid it. Just after I left I heard the locks being changed and when I returned I could not get back in to the room. University staff were told they would lose their jobs if they did not change the locks.
"The water and power supplies have been turned off and the toilets have been decommissioned. We have had every human right stripped from us.
"Our student union tried to bring us food and drink but the university would not let them through."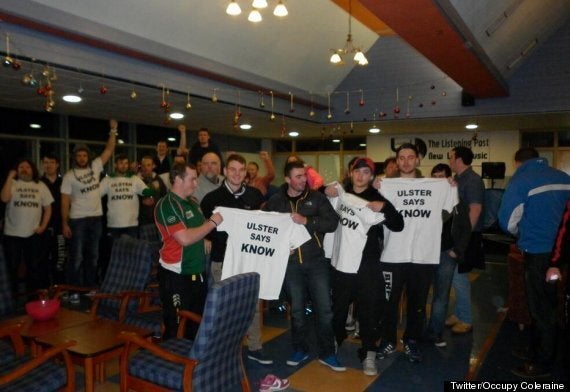 Students occupying the common room
A spokesperson for the university said: "The university is disappointed that a small number of people...are trying to prevent improvement work to facilities at our Coleraine campus.
"We should make it clear that the senior common room on the Coleraine campus is not a facility which is open to all staff and students. It is a private club charging a fee for membership."
But Gault insists it is not a private club; "I paid five pounds to have membership for the year. Members of the community come and play bridge here. It is a wonderful space where students can interact with people from outside the university.
"The university is turning into a corporate business when it should be a learning place."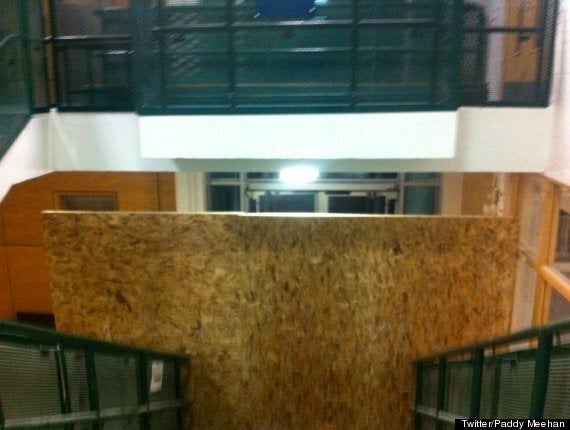 Students have been barricaded in
Gault adds the university promised students a new space, however it has since reneged on its word and is now intending on building a "box room" with a kettle and a vending machine.
The university added: "As part of our multi-million-pound investment programme in the physical estate at the Coleraine campus, the area formerly occupied by the Senior Common Room is being repurposed with the creation of high-quality meeting rooms and teaching facilities.
"Also as part of that upgrade work, a new staff common room open to all staff free of charge will be provided by the university. This will be more inclusive than the existing arrangements. The new staff common room will be bookable by student clubs and societies at evenings and weekends."
Student Gary Spedding told HuffPost UK: "As a member of the Alliance Party of Northern Ireland I would reiterate the plea made by the students protesting who have asked for my party colleague, Stephen Farry the DEL Minister to intervene on their behalf. These students who are peacefully protesting at the University of Ulster Coleraine campus deserve our full support.
"It is absolutely vital that we, as liberals, stoutly defend the rights of students and ensure the welfare, safety and basic civil rights of those peacably protesting are upheld. There is an imperative urgency to protect these students - young people who have done nothing wrong except stand against the repression dished out by their university's upper management."