The Indian Government has filed a petition asking the country's Supreme Court to review its ruling that gay sex is a criminal offence.
Earlier this month the court overturned a 2009 decision of the Delhi High Court, which decriminalised relations between people of the same sex.
It said it was up to parliament to legislate on the issue and upheld the constitutional validity of Section 377 of India's penal code - which dates back to 1860.
LGBT activists in New Delhi protest against the Supreme Court's judgement earlier this month
In what many in the LGBT community will see as a positive sign, law minister Kapil Sibal on Friday confirmed the move and tweeted: "Let's hope the right to personal choices is preserved."
In its petition filed in the Supreme Court, the government says "the position of the central government on this issue has been that the Delhi High Court verdict… is correct," the BBC revealed.
The country's penal code dates back to the days of British colonial rule in India and bans "carnal acts against the order of nature", widely interpreted to mean gay sex.
The Govt has filed the review petition on #377 in the Supreme Court today. Let's hope the right to personal choices is preserved.

— Kapil Sibal (@KapilSibal) December 20, 2013
"Such a decision was totally unexpected from the top court. It is a black day," Arvind Narrain, a lawyer for the Alternative Law Forum gay rights group told reporters after it was reinstated.
"We are very angry about this regressive decision of the court."
A spokesman for gay rights charity Stonewall told HuffPost UK the decision was a "huge disappointment" and vowed: "We'll continue to support activists in India who are fighting every single day to repeal this antiquated and draconian law."
Mohammad Abdul Rahim Quraishi, a spokesman for the All India Muslim Personal Law Board welcomed the decision.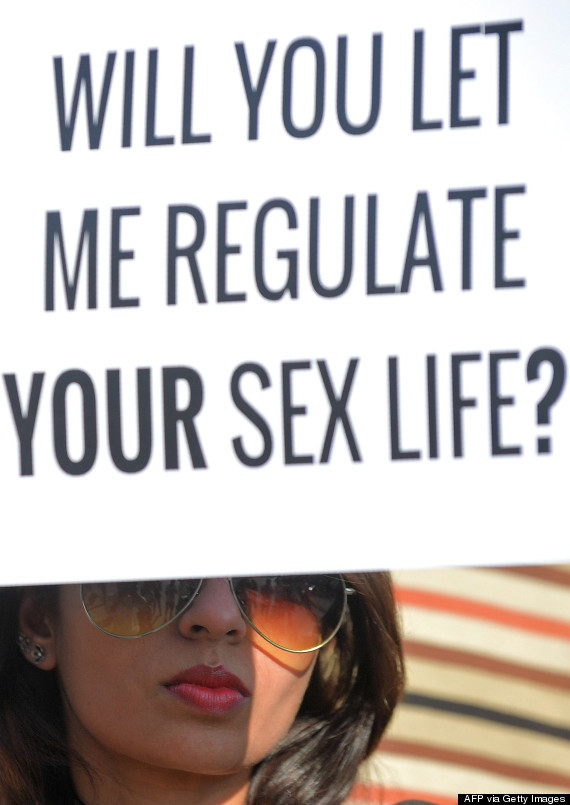 "There is no space for homosexuality in our social setup. It is a sin, it is a heinous crime," he said, according to the Wall Street Journal.
The 2009 ruling which decriminalised gay sex was the result of a case brought by the Naz Foundation, an Indian sexual rights organisation which said the law was hindering its battle to reduce the transmission of HIV.
The matter comes almost a year to the date after the death of a 23-year-old gang rape victim, which sent women's rights to the top of India's social agenda.
Four men found guilty of her death were sentenced to death in September.