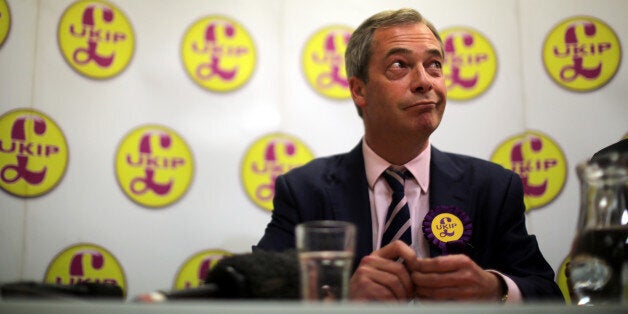 "I've never ever said 'Britain is full'," Nigel Farage insisted on Monday. The Ukip leader denied using the phrase as he defended his call for government to offer refuge to Syrian Christians caught up in the country's brutal civil war.
Farage told BBC Radio 2 that there was a "very clear distinction" between being opposed to allowing economic migrants to move to the UK and letting in refugees fleeing a war zone. "That is not inconsistent with my position that says it's total madness, in two days time, to open up our borders to hundreds of thousands of people from Romania and Bulgaria."
Challenged on how that squared with his position that there was no room in the country, he said: "I've never ever said Britain is full, I've never ever used that term."
Lucky for him, then, there isn't a video clip of him using that exact same phrase as recently as September 2013. Oh, wait..
Farage also appeared to amend his earlier position on allowing in refugees by suggesting it should be limited to Syrian Christians - to the exclusion of Muslims. "10% of the Syrian population are Christian, they currently find themselves in a middle of a civil war," he said.
"It's bad enough for Sunni and Shia, at least there are neighbouring countries that will take them," he said. "Where on Earth are the Christians going to go? Christians are now a seriously persecuted minority ... they are under assault from all sides."
Farage's decision to argue in favour of letting in victims of the civil war prompted a harsh backlash on the Ukip Facebook page. With party members unhappy at the idea of allowing people into the country.
The Ukip added in a statement posted online: "Christians are being increasingly persecuted across the Middle East and Syria as extreme Islamist elements seek to purge the region of Christianity. If we do not help these people then who will? We must as a nation help Christians who are fleeing Syria to escape death and torture by allowing some to come to the UK."
Related