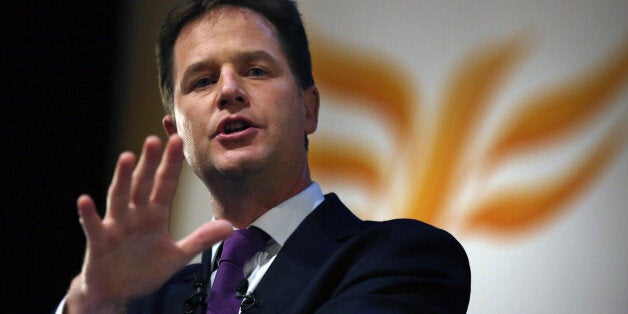 Guess how the Liberal Democrat leader wants you to vote next year? For the Lib Dems, of course. And nobody else.
Nick Clegg has warned voters they would jeopardise Britain's economic recovery and put jobs at risk if they vote for anyone other than his own party in May's European Parliament elections.
The Deputy Prime Minister used his new year message to deliver a boldly pro-EU speech in a bid to confront head on the mounting threat of the UK Independence Party.
Clegg said that that a vote for an anti-EU party, or for a party threatening to quit the EU, is the "surest way to throw our recovery away".
Ukip has consistently outscored the Lib Dems in recent opinion polls and is tipped to perform strongly - and perhaps even win - in May's elections.
Clegg is opposed to his Conservative coalition colleague David Cameron's promise of an in/out referendum by 2017 and he accuses Labour of failing to make the case for continued membership sufficiently strongly.
"Ukip want out. The Conservatives are flirting with exit. And Labour just don't have the courage of their convictions on this," he said.
"All three would put narrow political interests ahead of the national economic interest.
"So, in a few months, I'm going to ask you to make a different choice. The Liberal Democrats are Britain's Party of In. Not because we're in love with the EU, or we think it's perfect but because being in Europe means jobs, trade and prosperity".
Clegg - who appointed former Scottish secretary Michael Moore as his adviser on European business as part of the campaign to promote the pro-EU case - said the UK's biggest firms calculated membership was worth £3,000 per household per year.
"So in May, be for 'in'," he declared. "Don't wait for a referendum. Don't wait for the general election. Make your voice heard now.
"Once Britain finds itself with one foot out the door we won't just be able to turn back. So don't take that risk. Don't let anyone jeopardise our recovery. This year let's keep Britain in Europe, in work; no shocks or surprises, just better times ahead."
Clegg also sought to play down expectations for the coming year - suggesting that what the UK needed was "a year of stability rather than surprises" to "lock in" economic recovery.
Mocking the "exciting breathless predictions" of party leaders' New Year messages in the past, he said: "Not this year. Not from me.
"After a long period of drama and upheaval in the economy, how about a year of stability rather than surprises? More steady as she goes, than spectacular highs and lows. Finally there's light at the end of the tunnel.
"The economy's growing, businesses are hiring, 30 million people are now in work - that's a record high. So how about we make 2014 about one thing and one thing only: locking in our recovery.
"The people of Britain have already sacrificed an extraordinary amount."
For all the efforts the Government was making to help people with the squeeze on household budgets, "ultimately, we'll only take the pressure off for good by building a stronger economy, paying down Labour's deficit, investing in the things that drive growth, schools, roads, railways", he said.
"And by building a fairer society, where everyone can get on in life, through fairer taxes, more jobs, more help for parents balancing work and home. And by sticking to our plan we'll do both. There is a potential threat to all this."
Related