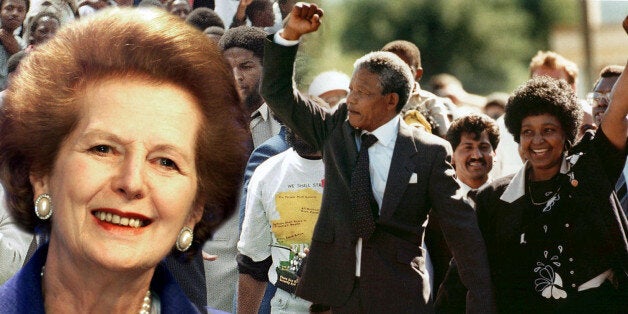 But newly-released archives have cast doubt on this version.
The former PM barely mentioned him in her first official meeting with apartheid South African prime minister PW Botha.
A summit was held between Thatcher and Botha in 1984 - the only such meeting between the two leaders - to discuss the country's policy towards its black population.
Mandela was at the time in Pollsmoor Prison, serving a life sentence for attempting to overthrow the government, and had become an international symbol of opposition to apartheid.
But Thatcher did not mention Mandela's detention once in the official discussion with Botha, choosing instead to raise the issue during a short pre-meeting held without note-takers.
This goes against the account of the likes of Norman Tebbit, who claimed the Iron Lady had put constant pressure on Botha to free the ANC leader.
According to the late prime minister's own description of the event, Mandela's plight was "noted" only during a private audience requested by South Africa to discuss "sensitive issues".
In a report sent by adviser John Coles to Roger Bone, then private secretary to Sir Geoffrey Howe, Number 10 confirmed the issue was raised at a short "tete-a-tete" with little success.
He wrote on June 2 1984: "The Prime Minister's talks with Mr Botha began with a tete-a-tete conversation which lasted some 40 minutes.
"No note-takers were present.
"The Prime Minister said afterwards that Mr Botha had stated that it was never possible for South Africa to satisfy international opinion.
"She took the opportunity to raise the case of Nelson Mandela.
"Mr Botha said he noted the Prime Minister's remarks, but that he was not able to interfere with the South African judicial process."
In the broader, four-hour, officially minuted meeting that followed, Mrs Thatcher omitted their disagreement over Mr Mandela - despite Foreign and Commonwealth Office (FCO) guidance to make the point.
In a briefing paper written by the FCO for the prime minister's office ahead of the meeting, it was suggested that Mrs Thatcher include Mr Mandela's release as a "point to make".
Encouraging the discussion of political prisoners, it said: "Understand sensitive issue but progress towards freeing Mandela and others like him would be widely welcomed as evidence of Government's desire for reconciliation in South Africa."
In a confidential background briefing, the FCO continued: "The imprisonment of people for political offences (often but not always associated with terrorism) attracts widespread international condemnation.
"There is particular concern about the ANC leader, Nelson Mandela, jailed for life in 1964 for campaign to overthrow the government, and his wife, Winnie Mandela, who has been subject to successive banning orders.
"We have supported calls for Mandela's release.
"His standing amongst blacks in South Africa is unrivalled."
In a statement to the House of Commons after the meeting, Mrs Thatcher said: "On the internal situation in South Africa, I expressed our strongly held views on apartheid.
"I told Mr Botha of my particular concern at the practice of forced removals (of the black population) and raised the question of the continued detention of Mr Nelson Mandela."
The revelations come after controversy surrounding the Conservatives' historical approach to Mandela's African National Congress (ANC) party flared in the wake of his death last month.
Former Labour cabinet minister Peter Hain attacked Lady Thatcher's government for its "craven indulgence to apartheid rulers" and claimed Tories attempted to "rewrite" the history books.
Speaking during a special session of Parliament last month, Mr Hain said: "We all say in Britain we were against apartheid, and doubtless we were.
"But some of us did things about it and others didn't.
"Forgive me, I hope not to strike too discordant a note on this occasion.
"I praise the Prime Minister for admitting his party's record, which I have to describe as craven indulgence to apartheid rulers.
"And if Nelson Mandela can forgive his oppressors, who am I not to do the same to our opponents in decades of anti-apartheid struggle.
"But it really does stick in the craw, when Lord Tebbit, Charles Moore and others similar claim their complicity with apartheid, for that's what I think it was, somehow bought its end."
Hain's intervention came after Lord Norman Tebbit, Thatcher's trade and industry secretary, told BBC Radio 4 that he was "irritated" by criticism of the Tory approach throughout the 1980s.
He said: "I'm not sure that it was thought that it was our business to instruct South Africa how to manage its internal affairs.
"You have to act within the constraints of the time and I get very irritated by the people who judge the past by the present.
"It's not very sensible."
Reminded that Thatcher branded Mandela's ANC a "typical terrorist organisation" during a press conference in 1987, Lord Tebbit said: "He was the leader of a political movement which had begun to resort to terrorism."
Prime Minister David Cameron has in the past apologised for his party's approach to South Africa.
In 2006, the Prime Minister flew to South Africa to seek forgiveness from Mr Mandela in person for "the mistakes my party made with the ANC and sanctions in South Africa".
He said at the time that Thatcher had been wrong to brand the ANC "terrorists".