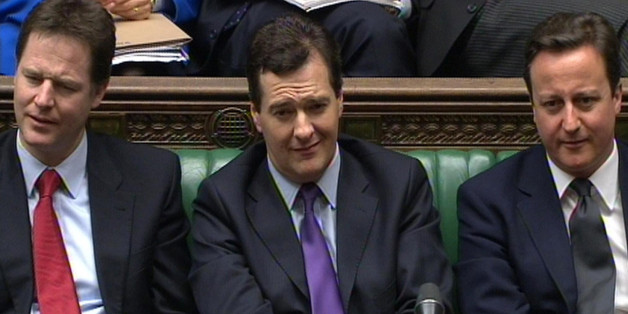 PA/PA Archive
Nick Clegg has said the Conservatives were making a "monumental mistake" in seeking "cuts for cuts' sake" and placing the burden of future deficit reduction on benefit claimants alone.
Asked whether Liberal Democrats would support George Osborne's proposals for £25 billion in further spending cuts and £12 billion in welfare reductions, Clegg told a Westminster press conference on Monday that the major parties were now putting forward "three very different visions" for how to balance the books, create economic stability and support public services.
"On the right, you've got a Conservative Party now who are driven, it seems to me, by two very clear ideological impulses," said Clegg.
"One is to remorselessly pare back the state, for ideological reasons just cut back the state. Secondly, and I think they are making a monumental mistake in doing so, they have said that the only section of society which will bear the burden of further fiscal consolidation are the working-age poor - those dependent on welfare.
"Then, on the left, you've got a Labour Party who want to spend more, borrow more, believe in a bloated state and don't appear to have learnt any of the lessons of the past.
"You've got an agenda on the right which appears to believe in cuts for cuts' sake, and an agenda on the left which believes in spending for spending's sake."
Clegg said Liberal Democrats agreed on the need for fiscal responsibility to deal with the deficit by 2017/18, but the "big difference" from Conservatives was that "we believe that the way we finish that job should be done fairly".
While money can be saved by cutting Whitehall waste and reforming welfare, Clegg said he was "perplexed" that Conservatives "refuse to countenance" the Lib Dems' proposals for a mansion tax on high-value residential properties, to ensure that the wealthiest bear their share of the burden.