"How would you like to look instantly slimmer, then lose weight quickly within weeks?" asks The Corset Diet website? "With the Corset Diet you can do, and you don't have to go on a strict diet and harsh exercise regime to do it."
For those of us looking for a quick fix, this may sound like music to our ears.
Henry Jones, owner of the Secret Society which sells the custom-made corsets and owns the Corset Diet website says: "The corset allows you to live your day to day life feeling sexy and toned it also helps posture. It's a highly effective way to starting aiding your weight loss, you feel the benefits constantly and can see you waist decrease as you start needing to tighten more. You can wear the corset for any amount of time you feel comfortable in, as the ladies used to back in the old ages."
But experts are not in agreement. And we find ourselves hard-pushed to support Diet - a diet which uses a corset almost as a DIY gastric band.
Henry's response is that the corsets are specially made for the person and are aerated to allow the skin to breathe. You are required to wear the corset between two and six hours a day, five days a week, and you must wear it before and during meals.
The idea is that by constricting your waist you'll consume less food. Portion control, in other words.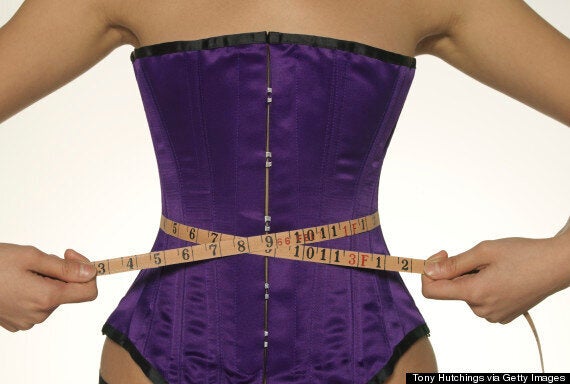 "Europeans condemned Chinese foot binding, but any society that had invented the corset had a lot to answer for," wrote Mary Jo Putney in The China Bride, and HuffPost UK blogger and health and fitness expert Sam Feltham says that the diet looked like it had come out straight from a Victorian diet book.
"As soon as I hear the fatal words of "eat less" to lose weight from someone I instantly know that they are working in the wrong paradigm when it comes to weight loss. Our weight isn't regulated by the amount of energy we take in and the amount of energy we expend but primarily by the hormones and enzymes we secrete in reaction to different foods.
"Whether you have or you don't have a corset on the reason people lose weight on any diet is because of the reduction of hormones that make us fatter, specifically insulin."
But Henry says: "Some say that it is an extreme method however that is far from our aim. The corsets we sell are unique in design and made to each persons measurements, yes they do give the instant look of a smaller waist however our main aim is to bring confidence, allowing women to start feeling better in them selves and start their weight loss, The diet comes with a healthy eating plan and constant support from our team ensuring positive results.
Having lost over 10 stone myself I understand what being overweight can do to people's mindset and how confidence can help. As so many people say "why not go to the gym? or why not eat less?" as any one who is overweight or low confidence will tell you, its not that easy!"
We asked someone with firsthand knowledge - Hayley Newton, celebrity trainer and HuffPost UK blogger, who said: "I was on set filming recently and, as a dancer, I had to wear a corset as part of my costume. Every day I wore it for 14 hours so I know first hand the effects it can have on your body, health and appetite. I would not recommend the corset diet."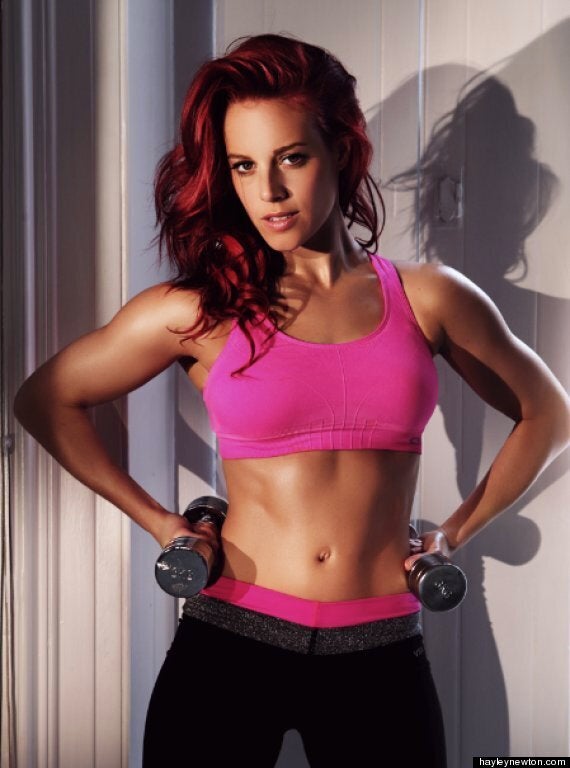 Personal trainer Hayley Newton
Celebrity trainer and former bodybuilder Rob Blakeman branded it as 'creepy' and 'unsustainable', adding: "It's unhealthy to keep continuous pressure on the midsection as it will restrict the lungs and thus inhibit breathing and oxygenation which is in itself unhealthy and it also squashes the major organs together."
When we asked London Wasps and England Rugby player James Haskell, who is also the ambassador for The Health Counter, he said he was loathe to criticise another diet (just because there is no miracle cure) but that managing your weight comes down to some very simple rules.
"Healthy weight management is ultimately a balanced diet combined with regular exercise. Monitoring what you eat in terms of how healthy you are which includes eating a good source of protein, vegetables and carbohydrates, and avoiding junk and processed food. However, human nature is so that we would rather try a quick fix, which could be uncomfortable and potentially dangerous or detrimental to your health and wellbeing."
You may just have to make peace with the fact that weight loss does actually require effort. Hayley added: "Although the restricted eating caused by wearing the corset might be helpful for people with low self-discipline but to maintain weight loss, that is exactly what you need to work on – achieving higher levels of self-discipline. If you're not hungry, don't eat it! If you want to tone up, exercise! It's the best way to stay healthy, and to achieve the best, long-term results. It might not be what you want to hear but it's true."