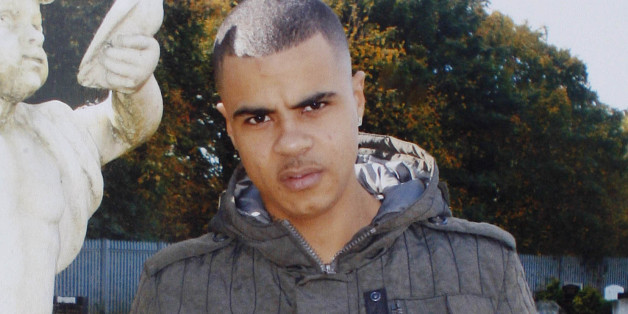 Jeff Moore/Jeff Moore
In the aftermath of an inquest that found police lawfully killed Mark Duggan, protests are planned in London and Birmingham, raising the spectre of the violence that followed the killing of the Tottenham man in the summer of 2011.
Riot squads will be on standby for the coming days, police confirmed to the Times on Wednesday night , shortly after jurors found Duggan was legally shot, despite being unarmed at the moment a police officer took aim. Duggan did have a gun in his possession at the time, the jury found, but had flung it away from him before he was shot. It was found 20ft away from his body.
As members of the Duggan family and supporters shook their fists and yelled abuse at jury members at the High Court, and at police officers giving statements outside, rumours swirled of a planned demonstration outside Tottenham Police Station.
Peaceful protest against Mark #Duggan's execution outside Tottenham police station 9pm tonight.

— Ethan Race (@Ethan_Race) January 8, 2014
Little materialised, with pouring rain perhaps keeping many would-be troublemakers at home.
On social media, activists who claim a police cover-up has smeared Duggan, and say there is a racial element to police violence against him, are calling a "peaceful protest" in the north London suburb on Saturday.
apparently a peaceful protest is on Saturday.. #duggan family mean well, sadly awful ppl separate to them will take advantage of situation..

— sailor moon (@misesfahayek) January 9, 2014
Aunt Carole Duggan insisted she wanted "no more demonstrations, no more violence" but said the family would pursue the authorities through peaceful channels.
Duggan told BBC Radio 4's Today programme she was not yet ready to meet Sir Bernard and the family was still in "turmoil" about the case.
"The family are still in shock right now about the result of yesterday," she said. "We are in turmoil. We don't really know what's going to happen at this point. There will be something further down the line, I'm sure."
On Thursday afternoon, protesters are set to gather in Birmingham city centre.
Mark's mother Carole Duggan said: "The majority of people in this country know that Mark was executed."
"He was executed and we still believe that, and we're going to fight until we have no breath in our body for justice for Mark, for his children, and for all those with deaths in custody that have had nothing."
"We are not giving up. No justice, no peace!"
Sir Bernard Hogan-Howe, the Met's Commissioner, said that he was pleased the jury had vindicated "our officers acted lawfully when they confronted an armed criminal who they believed posed a threat to them and to the public".
Neil Basu, the Met's commander for armed policing, said: "There is no officer who expects more scrutiny than a firearms officer. I make it very clear to them that I expect them to be the best of the best."
The jury found unanimously that the Metropolitan Police and the Serious Organised Crime Agency had failed to interpret the evidence that Duggan was planning to collect a weapon from Kevin Hutchinson-Foster, who is now serving an 11-year prison sentence.