Firearms officers are to trial the use of body-worn video cameras to record evidence in the wake of the Mark Duggan shooting, as the Metropolitan Police admitted the case had harmed relations with London's black community.
Metropolitan Police Commissioner Sir Bernard Hogan-Howe is to meet political representatives from London and local community leaders from Tottenham to build better relationships a day after Duggan's killing was deemed lawful.
"I welcome the verdict of a jury that our officers acted lawfully when they confronted an armed criminal who they believed posed a threat to them and to the public," Hogan-Howe said.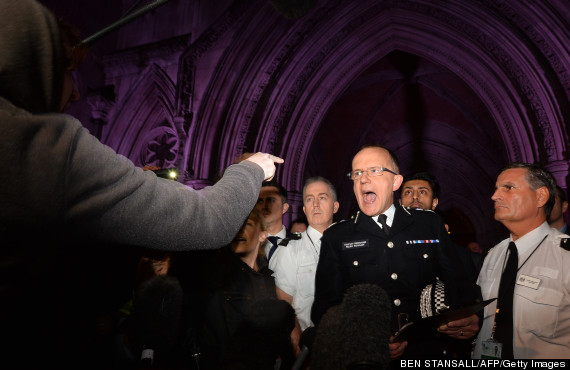 A man points and shouts at Assistant Commissioner Mark Rowley as he addresses the media
"But I recognise that some in the community are still angry at Mr Duggan's death.
"In particular, I know that we have much work to do with black Londoners to build trust and confidence in the Metropolitan Police.
"We know that the arguments will continue about what happened in this case. So we appeal for a balanced debate about the risks to the public from gun-crime."
Wednesday's verdict of a lawful killing, despite the jury finding that Duggan had thrown his gun away before being shot, was met with anger from his family and supporters.
People screamed "murderers" and a door was smashed as the jury delivered their verdict at the Royal Courts of Justice. One supporter told journalists in the courtroom: "A black life ain't worth nothing, print that."
Speaking of yesterday's reaction to the verdict, Hackney North and Stoke Newington MP Diane Abbott said it was important to understand the "history to that bitterness and anger" due to the relationship between police and urban communities such as the one Mr Duggan was from.
She told ITV's Daybreak: "I don't think politicians should second guess juries, I'm not second guessing the jury, but people have to understand how unhappy some people are about this verdict and why they're unhappy and it's because of the relationship between the police and some of the community in our urban areas.
"There's still a lot of concern about stop and search and the fact that black youth and Muslim youth get stopped and searched far more than white youth and it bears no relationship to the actual criminality.
"We just have to understand that there's a history to that bitterness and anger and there's still work to do to build the community's confidence in the police.
"You can't deal with gun crime and gang crime in London unless you have the consent of the community and that's why these sorts of issues have to be dealt with very carefully."
Duggan, whose death sparked protests that exploded into riots and looting across the country, was gunned down when police stopped the taxi in which he was travelling in Tottenham, north London, in August 2011.
At the culmination of the four-month inquest, the jury found that although the 29-year-old had a gun in the minicab, he most likely threw it onto a nearby grass verge as soon as the car came to a stop.
Police watchdog the Independent Police Complaints Commission (IPCC) said it was looking at new evidence that had emerged from the inquest, and the Duggan family are now considering whether to try to get the inquest conclusion judicially reviewed.