The ongoing rain which has flooded parts of Britain in recent weeks will be joined by freezing temperatures and snow this weekend.
Weather experts said this weekend the rain will continue as freezing temperatures set in, with a high chance of snow in the north.
Today and tomorrow Wales and south-west England will endure more rain which will return again on Sunday, MeteoGroup forecaster Laura Caldwell said.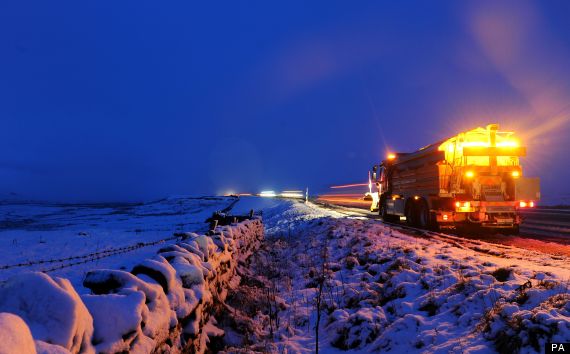 It's going to be grim
More than 100 flood warnings and nearly 200 flood are alerts in place, although none of them was deemed severe, which would carry a danger to life.
River levels have been rising in counties including Wiltshire, Hampshire, Dorset, Somerset and the Midlands, the Environment Agency (EA) said.
Rivers including the Hampshire Avon through Wiltshire, Hampshire and Dorset, the Stour in Dorset, the Parrett in Somerset and the Severn through the Midlands showed no signs of receding.
Communities along the River Thames throughout Surrey, Berkshire and Oxfordshire were also warned that they were at risk of flooding in the coming days.
Flooding continued on parts of the Somerset Levels, and there remained a risk of flooding from groundwater in Dorset, south Wiltshire and West Sussex, the EA said.
Story continues after the slideshow...
Ms Caldwell said: "There will be rain across a lot of England and Wales today and also showers in Scotland and Northern Ireland.
"It will all begin to clear throughout tomorrow before dry and sunny weather arrives at the weekend.
"With that though we will have colder temperatures, dropping to below freezing on Saturday evening, and snow across the hills in north England and reaching the ground in Scotland.
"But come Sunday, the rain will return in the south."
Teams from the EA were said to be checking and maintaining flood defences, clearing blockages in watercourses and monitoring water levels to help communities.
Thames Valley Police said a cyclist died after going into floodwater in Godstow Road, Wytham, Oxfordshire, yesterday.
The man, believed to be a 73 years old and from Oxford, was airlifted to the John Radcliffe Hospital in Oxford in a serious condition but he was later pronounced dead. He is the eighth person to die since December 23 during the bad weather.
Thames Valley Police said the man's death was not being treated as suspicious and that a road closure was in place in Godstow Road, between Wolvercote and Wytham, due to flooding.
Motorists are being reminded to abide by the signs and follow any official warnings at all times, a police spokesman said.
Superintendent Christian Bunt, local policing area commander for Oxford, said: "Our thoughts are with the family of the man who has died.
"This appears to be the second tragic incident in which someone has died after entering flood water in the Oxford area in the past few days.
"I wish to reiterate my warning that the public should take extra care to ensure they do not put their lives at risk by entering flood water. I urge anyone who finds themselves in areas affected by flooding to follow the advice of the Environment Agency."
Paul Mustow, flood risk manager at the EA, said: "The risk of flooding continues this week, with communities in the south west and south east urged to stay safe and sign up to free flood warnings.
"When flood warnings are issued it means that flooding is expected and we urge people to take immediate action to prepare."
The latest warnings came as David Cameron said during Prime Minister's Questions that lessons would be learned from the recent devastating weather events.
He said some energy companies did not have enough staff working over Christmas to deal effectively with power failures.
And he said Energy Secretary Ed Davey was looking at the response of the energy companies and the compensation on offer amid criticism that they were too slow to reconnect cut-off families.
The Government would update MPs within weeks, Mr Cameron added, as he confirmed that more than was being spent on flood defences in this four-year period than the previous period.
More than 1,700 homes and businesses have been flooded in England since the beginning of the Christmas period, with around 550 properties flooded since the new year. Some 140 properties have been flooded in Wales.
Flood defences protected more than 220,000 properties over the Christmas period and another 800,000 were protected during the coastal flooding in early December.
High winds over Christmas also left 250,000 homes without power, with some families waiting days for electricity to be restored.
Mr Davey has met regulator Ofgem and the companies responsible for maintaining power supplies to discuss the storm-related power disruptions that saw 750,000 households cut off.
A review into the response to the disruption will report within two months, focusing on communications with customers, contingency plans, the resources needed to cope with widespread power cuts and compensation.
Network operators have also agreed to proactively contact customers who may be entitled to compensation, Mr Davey said.
Mr Davey said: "I fully understand the frustration felt by people whose Christmases were spoiled because of power disruptions, but I also want to pay tribute to the hard work of the engineers who battled appalling weather conditions to try to reconnect homes as quickly as possible.
"Clearly, communications with customers must be at the heart of this review as in some cases households were not kept informed of what was being done to help them or when they were likely to be reconnected."
He said the Government wanted to see the introduction of a single emergency number which people could call, wherever they lived, in the event of a power cut.