The Government has been accused of a shambolic roll-out of the Bedroom Tax, with thousands of tenants wrongly hit and due a refund.
The Department of Work and Pensions says it believes 5,000 tenants have been affected, but one housing expert has said that, on the basis statistics from Exeter Council, the figure could be high as 40,000 people in line for money back.
A loophole in the Government's welfare reforms means what ministers call the spare-room subsidy does not apply to certain renters who have lived in the same home for more than 17 years.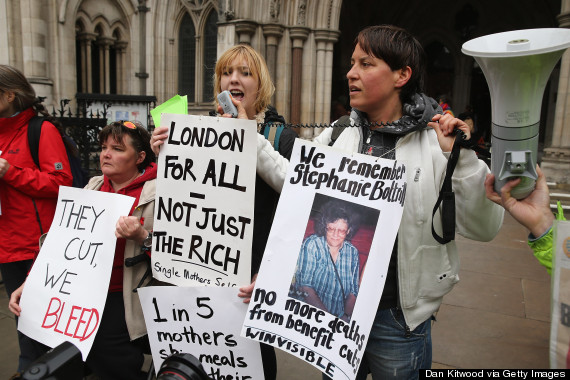 Demonstrators have protested against government changes to the proposed 'Bedroom Tax'
In a blog post, Joe Halewood, an independent housing consultant, estimated 40,000 people were affected, based on projections following information from Exeter City council, which has found that 4.5% of those hit by the penalty were wrongly held liable.
"That doesn't sound a lot yet if that 4% figure is replicated nationally – and this exemption applies nationally don't forget – it means 26,400 households are exempt when they have been charged the bedroom tax.
"However the DWP's own figures would suggest many more than this," he continued. "[Exeter] in the South West has 20% of working age tenants affected by the bedroom tax which is the lowest percentage nationally and nationally the average is 31%.
"It ranges from 20% in the South West to a whopping 46% in Wales. So this would mean that 40, 920 households would be exempt nationally... men women and children exempt from the bedroom tax who are now having the bedroom tax wrongly imposed upon them and have had this imposed wrongly since April.
"Is there anyone out there who still thinks the bedroom tax was well thought through? Anyone out there who still doesn't think all local councils cravenly colluded with central government in this farce? Anyone out there who still thinks landlords did their best for tenants?"
The Department of Work and Pensions has written to local authorities alerting them to the glitch and insists new regulations will be introduced swiftly to rectify the oversight.
Shadow welfare reform minister Chris Bryant told the Guardian: "This is the latest example of the chaos and confusion within the Department of Work and Pensions under Iain Duncan Smith.
"Rather than closing loopholes in the policy, the Government should scrap their hated bedroom tax. If they don't, the next Labour government will."
There was significant anger on social media over the error:
The bedroom tax has turned into a complete shambles as well as being obscene NOW people are wrongly charged !!!

— Elizabeth (@lizzjones18) January 10, 2014
I think this word in @guardian comments on bedroom tax errors sums up the incompetence of these idiots perfectly

January 10, 2014
Under the Government's welfare reform, social tenants deemed to have more bedrooms than they need have had their housing benefit reduced.
Ministers say private sector renters do not get spare rooms for free, and argue the change will save around £500 million annually.
But it has sparked protests across the country with opponents claiming it is forcing families into poverty and will increase the benefits bill by pushing people into the private sector.
The error affects tenants in social housing on housing benefit whose claim has not changed since before 1996 as they are covered by old regulations, which were mistakenly left unchanged under the Government's reforms.
It could amount to a refund of at least £640 per claimant, according to the Guardian.
A DWP spokesman said: "We are looking at this issue carefully and working with local authorities, and we will take any necessary action in due course. We expect very few people to be affected."