Pakistan's prime minister has promised the highest civil award for bravery to a teenage boy who sacrificed his life to save his school from a suicide bomber.
Aitizaz Hasan was killed on Monday outside his school in Hangu, northwest Pakistan. His brother and teacher say Hasan went to tackle the bomber, as others fled, meaning the jihadist detonated early, killing only himself and Hasan.
Prime Minister Nawaz Sharif said in a statement that his "brave act saved the lives of hundreds of students and established a sterling example of gallantry and patriotism."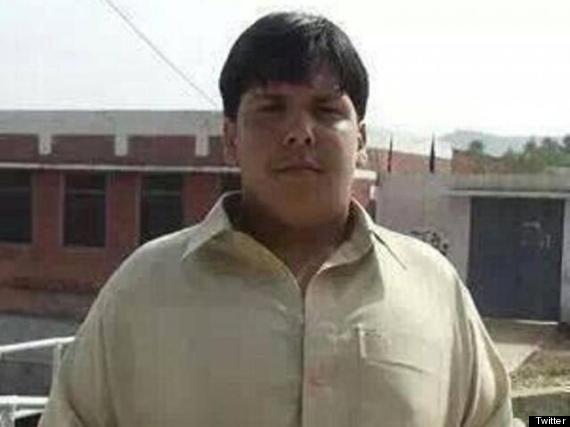 Aitizaz Hasan's brother and teacher say Hasan went to tackle the bomber
President Mamnoon Hussain is now set to approve the conferment of Pakistan's Star of Bravery to Hasan, according to AP. Activists on social media have called for Hasan to be given the award for days.
In a blog for The Huffington Post UK, former prime minister Gordon Brown praised Hasan, saying: "Aitzaz Hasan has redefined the word courage. He was not a soldier going into battle, or a visionary leader prepared to die for his convictions but a 15-year-old schoolboy who gave his life to save 1,000 children from a suicide bomber.
"This act of courage is a wake-up call for those of us in the West who have come to assume the right to education to be uncontroversial, even mundane, both the pupils who take universal education for granted and adults who are causal about its importance.
"They forget that there are terrorist groups dedicated to preventing the enlightenment and the end to ignorance that education entails.
"And so it has been left to young boys and girls in the least promising of places to show us by their actions that they value their right to education more than the adults who are charged with watching over them."
Hasan was a student of the Government High School Ibrahimzai in Hangu, which has 2,000 students, according to the Express Tribune.
Lashkar-e-Jhangvi, a militant anti-Shi'a group, have claimed responsibility for the attack, which was in a Shi'a area.
The principal of the school, Lal Baz, said on Wednesday it had taken days for politicians to visit the family: "The attack targeted education and I am surprised neither the federal nor the provincial government functionary has visited the family. Their silence is condemnable."