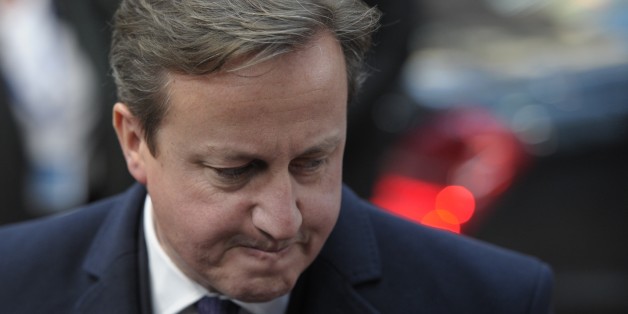 ALAIN JOCARD via Getty Images
The Prime Minister has come under renewed fire over flood defence spending after it emerged that figures showing increased funding include money committed by the last government.
David Cameron told the Commons last week that "in this current four-year period, we are spending £2.3 billion, compared with £2.1 billion in the previous period" on flood defences.
But the current four-year period dates back 2010/2011 - the last year of spending commitments made under Labour when money for flood management reached a high of £664 million, before being reduced from 2011/2012 as part of the Coalition's spending cuts.
READ MORE:
Analysis by Friends of the Earth suggests the Government is spending £2.32 billion in the current spending review period, slightly less than £2.366 billion in the previous four years.
The Environment Department (Defra) spent an average of £620 million a year on flood defences in Labour's last spending review period (2008/09-2010/11), while, under the Coalition's first spending review period, Defra's annual spend averages £580 million, the environmental group said.
Guy Shrubsole, from Friends of the Earth, said: "The Prime Minister has serious questions to answer about his Government's spin on flood defence spending figures.
"Downing Street has confirmed that his figures include funding committed by the last government.
"At the first opportunity, George Osborne slashed spending on flood defences - the Coalition's spending review resulted in a cut of 10%."
The Treasury committed another £120 million to flood defence spending in autumn 2012, in response to repeated flooding during one of the UK's wettest years on record.
But Mr Shrubsole said: "In real terms, over the Government's term in office, spending on defences will be lower than under the last government.
"It is clear that the Government isn't spending enough on flood defences to keep pace with climate change - David Cameron needs to explain how decreasing the budget for flood defences helps in the face of increasing risk of flooding."
Figures obtained by Labour from the Government also reveal that, once inflation is taken into account, Defra spending on flood defences has fallen year on year since 2010/2011, and will be down £100 million in real terms by 2015/2016.
The Environment Agency has previously warned that it needs a £20 million year-on-year increase in funding for flood defences on top of inflation in order to maintain protection for homes and businesses in the face of climate change.T