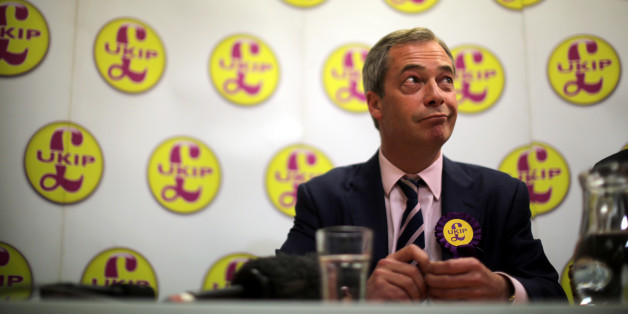 Christopher Furlong via Getty Images
A top Conservative MP has said the Prime Minister should be copying his policies on issues such as immigration – because grassroots Tory supporters back them.
Bernard Jenkin, who is emerging as one of Mr Cameron's most powerful backbench Tory critics, claims his party will lose the election to Labour, with many MPs unaware they face being turfed out by voters.
"It has got to the ridiculous position where Nigel Farage is telling us what our policy on immigration should be – and he is right," he said in private remarks to fellow Conservatives, the Dail Mail reported.
The senior MP has warned that the party is set to lose 50 seats at the next Election, giving Ed Miliband the keys to No 10.
Mr Jenkin told The Mail on Sunday last night that instead of attacking UKIP leader Nigel Farage, Mr Cameron should be copying him.
"We must reclaim control of our immigration laws so that British Ministers and Parliament can decide who enters our country, on what terms, how long they can stay and what benefits they are entitled to receive," he said.
"Nigel Farage says many things which many voters and many Conservative supporters agree with.
"We should adopt them as our policies."
His comments follow a survey on British social attitudes revealing that more than three-quarters of British people want to see immigration slashed – but fewer than ever believe it is bad for the economy.
In response to the survey, Mr Farage said that he believed that fear of being labelled as a racist has stifled the debate on immigration.
He said: "They tried to rubbish us, they tried to say that anybody that dared to talk about this subject was necessarily a bad person and racist, that was what they tried to do and actually this has been going on ever since (Enoch) Powell's speech."
The Ukip leader sparked outrage last week when he said he backed the "basic principle" made by Powell in his notorious "rivers of blood" speech.