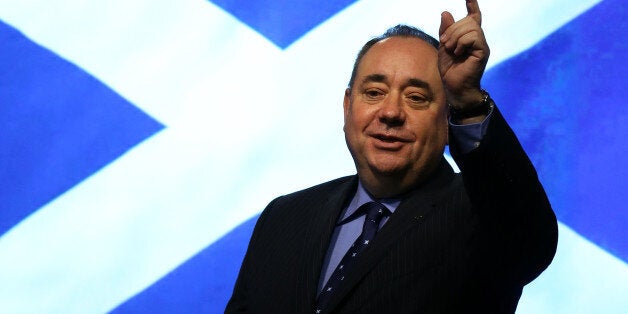 Alex Salmond has welcomed the Treasury "starting to come to terms with reality" after pledging to honour all UK debts up to the date of Scotland's independence referendum.
Salmond said the UK government was "being hoist by its own petard".
"Any debt that has been issued - most of it during Alistair Darling and George Osborne's Chancellorship - is issued in the title of the UK Government. That's what they're having to acknowledge."
The Scottish first minister said the Treasury's latest move was only necessary because of their refusal to "pre-negotiate a reasonable settlement in the event of Scottish independence.
"What they're saying is they'll stand behind their own debt," he added.
Salmond has previously suggested that an independent Scottish government could default on paying its share of the UK debts if it was not allowed by the Treasury to keep the pound sterling and have fair access to other assets.
It is feared that any risk of default on debt repayments could send the cost of borrowing for the UK government soaring.
"If Scotland reneged on what it owed the rest of the UK, it would be an international pariah in the markets. The UK has a strong hand here."
Gordon MacIntyre-Kemp, chief executive of the pro-independence campaign Business for Scotland, said: "This announcement not only undermines the No campaign's unfounded scaremongering on a shared currency it also fundamentally weakens the UK's negotiation position by accepting full responsibility for the UK's growing debt mountain prior to the negotiations with an independent Scotland.
"To excuse this, the Treasury states that it wants markets to know that Scotland as a new country without a history of honouring government bonds wouldn't be a bad credit risk, when in fact Scotland could be seen as a better credit risk than the UK!"
Former Chancellor Alistair Darling, head of the Better Together campaign, said the Treasury had made its pledge to reassure markets that see the referendum as "a risk".
"The fact that Alex Salmond has been going around saying he might default on Scotland's debt if he didn't get his own way has registered with these people," he said.
"What the UK government is saying is if you lend the UK government money, we will stand behind it, we will honour it."
The Treasury said: "An entirely separate contract between the continuing UK government and an independent Scottish state's government would need to be established. The respective shares of debt and the terms of repayment would be subject to negotiation.
"In the event of independence, the full spectrum of assets and liabilities – past, future and contingent – would need to be considered in negotiations between the continuing UK and Scottish governments, on a case-by-case basis. This means that the negotiations would need to cover the arrangements for all forms of debt covered in this note, not just gilts and Treasury bills."