Hailed as a war hero and peacemaker by many in Israel, despised across the Arab world as a 'butcher', world leaders came to pay homage to former Prime Minister Ariel Sharon at the Knesset in Jerusalem.
Former Prime Minister Tony Blair, US Vice- President Joe Biden, and Israel's President and Prime Minister, Shimon Peres and Benjamin Netanyahu were among those who eulogised Sharon. He died on Saturday after spending eight years in a coma, following a stroke.
Commentators on social media were quick to point out several controversial omissions in Sharon's history as world leaders paid tribute, including his "indirect responsibility" for the massacre of Palestinian refugees in Lebanon by a Christian militia, in camps under Israeli army control.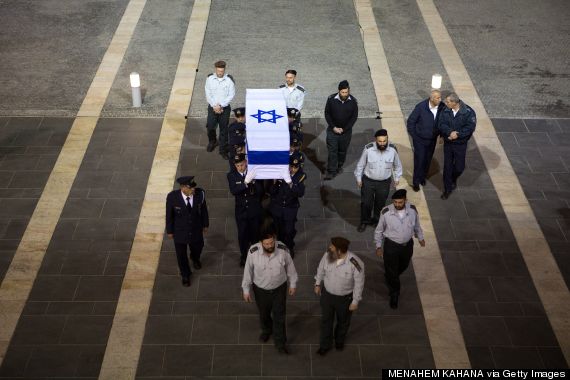 Israeli honour guards carry the coffin of former prime minister Ariel Sharon in to the Knesset
Missing too from either the president or the prime minister's speech was mention of Sharon as the architect of Israel's total withdrawal from the Gaza Strip in 2005, a concession to peace that surprised the world, and was opposed by the right-wing in Israel.
Interesting who avoided topic of disengagement (BB, Peres) who alluded to it (Edelstein) who addressed it (Zambish, Blair, Biden) #JPost

— Lahav Harkov (@LahavHarkov) January 13, 2014
Neither @PresidentPeres nor @netanyahu mention war in #Lebanon or disengagement from #Gaza in their eulogies of #Sharon

— Anshel Pfeffer (@AnshelPfeffer) January 13, 2014
Knesset Speaker @YuliEdelstein the first Israeli politico at #Sharon funeral to honestly mention massive argument over disengagement #Gaza

— Anshel Pfeffer (@AnshelPfeffer) January 13, 2014
"We are accompanying to his final resting place today, a soldier, an exceptional soldier, a commander who knew how to win," said Peres, standing in the winter sun in front of the Israeli Parliament.
Biden said of "Arik" [Sharon's nickname] that: "The security of his people was always Arik's unwavering mission - a non-breakable commitment to the future of Jews, whether 30 years or 300 years from now."
He praised Sharon's decision to forcibly remove Jewish settlements from Gaza. "As a student of the Jewish state, I can't think of a more controversial and difficult decision. But he believed it, and he did it."
He hinted at some of the controversy that dogged Sharon's legacy. "It's right for the Israeli people to reflect on all aspects of his life. The triumphs, as well as the mistakes. Taking full measure of the man. The arc of his life. I would argue that the arc of his life traced the journey of the state of Israel.
SEE ALSO

Ariel Sharon, Israel's Former Prime Minister, Dead At 85

David Cameron's Tribute To Ariel Sharon, As Obama, Ban Ki-Moon Release Statements
"And through it all, the United States, whether we agreed or disagreed with a specific policy, has been unflagging in its commitment to the state of Israel," he said.
Blair recalled the work the pair did together as prime ministers of the UK and Israel. "He took actions no one ever thought he would take: agreeing the Road Map, withdrawal from Gaza, forming Kadima [a new centrist party after leaving the right-wing Likud].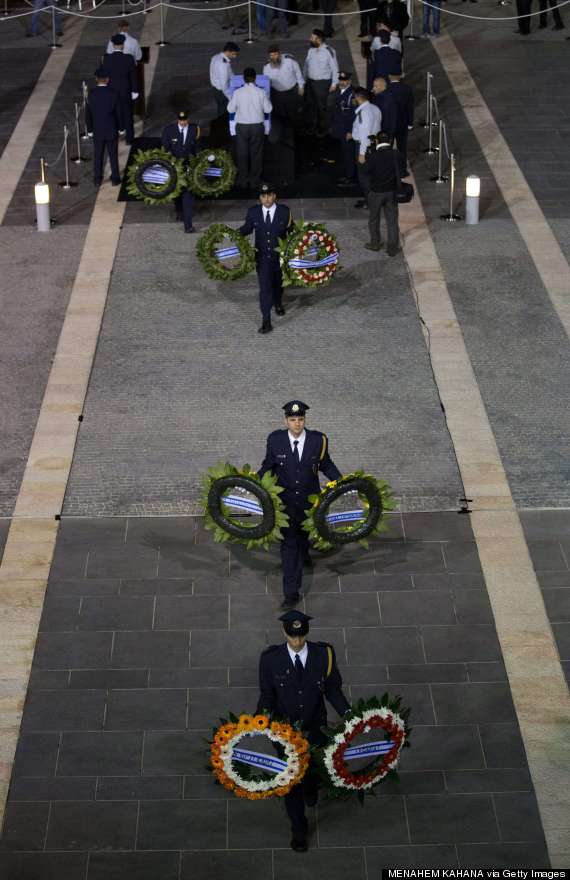 Sharon's controversial life inspired admiration and provoked revulsion
"But the idea that he changed from the man of war to the man of peace, misses that which defined him. Actually he never changed his strategic objective never wavered," Blair continued.
"Once decided he was unflinching. He carried all before him. And in this mode he didn't move, he charged. Positions, parties, policies, he could leave considerable debris in his wake. But always his destination was clear. As was his motivation."
Netanyahu, a bitter political rival with Sharon, admitted the pair had not always got along. But he said: "Arik understood that in matters of our existence and security, we must stand firm. We are sticking to these principles.
"Israel will continue to fight terror. Israel will continue to strive for peace, while protecting our security. Israel will act in every way to deny Iran the capability of arming itself with nuclear weapons."
Settler leader Zeev Hever praised Sharon's support for West Bank settlements, despite his withdrawal in Gaza. "You were the founding father of the settlements enterprise. You taught us how to do it," he said.
An afternoon funeral will be held near the family farm Sycamore Ranch, where Sharon will be buried next to his wife Lilly.
Security for the memorial and the funeral has been beefed up, but security sources told Reuters there was no sign of any potential rocket attacks from the Gaza Strip. Sharon's burial is to take place just six miles from the border.
No leaders from Africa, the Middle East or Latin America have attended, the Guardian reported.