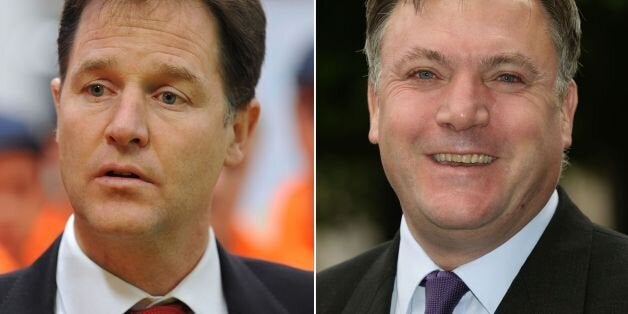 Despite Ed Balls' recent attempt to reconcile with Nick Clegg, the deputy prime minister is still clearly wary of the shadow chancellor's bruiser reputation.
Asked whether he thought he could beat Balls in a fight, Clegg told BBC Radio 5 Live on Sunday evening: "I'm doing kickbox lessons in a gym to keep myself fit so who knows, if I keep doing that maybe I'll stand a chance. I'm not going to make ringside predictions in such a closely fought contest."
Clegg added: "By the way I'm rubbish at it but I just do it to try and keep vaguely fit."
His comments came following reports that Balls and shadow foreign secretary Douglas Alexander had to be dragged apart during a row over Labour's policy on Europe.
Pro-Europe Alexander was reportedly angry at his fellow shadow cabinet member for leading Labour's backing of rebel Tory MPs in a Commons vote demanding an EU budget cut in October 2012 while he was on a trip to the United States. The Mail on Sunday claims former cabinet minister Dame Tessa Jowell had to separate the pair.
Clegg said disagreements between the Lib Dems and Conservatives in coalition were resolved in a more amicable way without such "fisticuffs".
Rachel Reeves, the shadow work and pensions secretary, denied the report. she told Sky News on Sunday: "I haven't seen any fisticuffs in the shadow cabinet with Ed or Douglas or anyone else."
Clegg and Balls have had a fractious relationship since the Lib Dem leader decided to take his party into government with David Cameron. However last week Balls indicated he would be prepared to work with Clegg in a future Lib-Lab coalition and said the deputy prime minister was a man of "integrity".
Popular in the Community