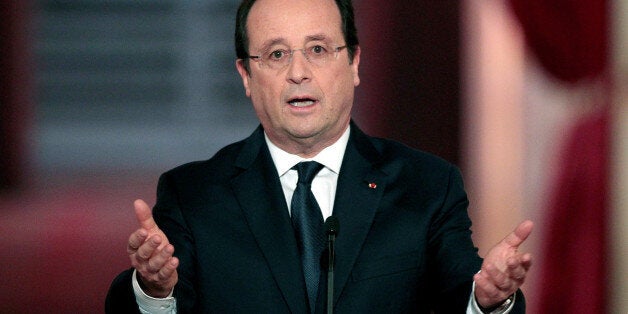 Francois Hollande has defiantly said he will deal with reports of his affair with French actress Julie Gayet "in private".
However, that hasn't stopped the world's media flying into a frenzy over the French President's alleged bit sur le side, with the internet this morning being awash with rumours ranging from raunchy to ridiculous.
But, much to the frustration of the British press, he refused to elaborate on his nocturnal escapades and the current status of his partner Valerie Trierweiler.
Hollande's media conference at the Elysée Palace "brought great anticipation, but no satisfaction," The Telegraph reported, wryly adding "with the greatest respect, there was un éléphant dans la salle."
"If Hollande treats his women the way he treats his press conferences, I feel rather sorry for them," reporter Michael Deacon rather caustically added, describing the French President as a "small dog."
The Daily Mail decided to focus on the feverish rumours rapidly circulating in Paris that Mademoiselle Gayet is four months pregnant.
Actress Ms Gayet, 41, is expecting Francois Hollande's baby in June, according to unconfirmed reports by a French blogger who claimed the source was a journalist at the respected M6 television news channel.
Other important details yet to be confirmed or denied include that Hollande owns only one pair of shoes, and that he had to sneak into the actress's flat disguised in a motorcycle helmet for a "night of passion".
"They do things differently in France," the paper concluded.
A tweet from the journalist Andrew Neil highlighted the question on many people's lips regarding the French First Lady's status, following yesterday's press conference.
But in words which may be considered harsh by some, Hollande dismissively claimed the presidential partner had "no official status" in France and said that he would not be satisfying World-wide curiosity over his tangled love life until his trip to the US next month.
The Mirror today reported that an Elysee Palace spokesman had refused to say whether or not Hollande had even visited Ms Trierweiler in hospital, where she has so far spent four nights and is expected to stay up to six days more.
The paper added that Hollande is said to be deeply in love with Ms Gayet and that "an armed bodyguard working for one of France's elite police unit was tasked with bringing morning croissants to the pair."
"As long as we talk about his mistress, we don't talk about unemployment or the crisis which drags on," they posted.
Popular in the Community