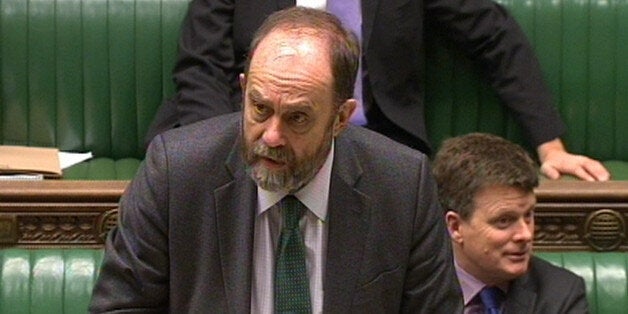 The European Union is not democratic enough or liberal enough and a referendum on Britain's membership in the next parliament is "inevitable", a former Lib Dem minister has said.
David Heath said voters "have never actually been asked properly" whether they were happy with the way the EU currently operated and the situation was "not sustainable".
"I am very critical of a lot of European institutions because I don't think they are particularly liberal or particularly democratic," he said.
Heath served in the coalition as deputy leader of the Commons and as agriculture minister until he was reshuffled by Nick Clegg last October. And, while it is all relative, he is unusually critical of the EU for a Lib Dem.
In an interview with The Huffington Post UK, he said: "I think it is inevitable there will be one, I certainly would support there being one."
"Because I am a liberal I am internationalist. I do believe in international cooperation. I think there are things better done across national borders. Equally I do believe in proper subsidiarity, pushing decisions down to the lowest available level of government," he said.
He added: "I think that's the balance we've got wrong at the moment. The EU pays an awful lot of lip service to subsidiarity but ignores it terms of decision making."
However he said he did not support David Cameron's "silly" EU Referendum Bill which would commit the next government to a referendum by 2017, as it was just a bit of "window dressing".
A referendum, he said, was bound to happen in the next parliament as the coalition's European Union Act 2011 meant that any treaty change would trigger one.
"I will argue consistently there should be a referendum and the trigger for that will almost inevitably happen in the next parliament. We need a proper transparent debate on that, one without the mythology."
"I think there are some significant renegotiations that need to happen to change some of the ways Europe goes about its business. I support the view the UK government should be leading that debate."
Heath has long backed a referendum on Europe. He was sacked from the Lib Dem front bench in 2008 after defying Nick Clegg and backing Tory calls for a referendum on the Lisbon treaty. "I probably am at one extreme of my party," he admitted.
In the interview with HuffPost UK, Heath also admits he was "deeply disappointed" to be reshuffled, says the Lib Dems will go after Tory seats in 2015, explains why the rules need to change following the Edward Snowden leak and warns Defra may not be funded well enough to deal with a "catastrophe".
Popular in the Community