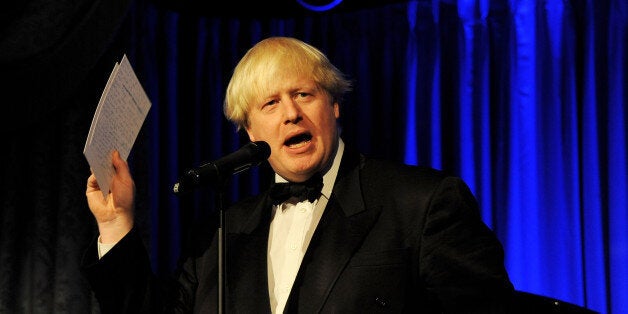 Boris Johnson has urged George Osborne not to "slam the door" on wealthy foreigners buying property in the capital and to avoid treating them like "blocks of bullion".
Critics fear the flood of foreign investment has been pushing up property prices in London, as reports found that 70% of new build homes in the capital were snapped up by foreign buyers.
In his speech to the annual Mansion House London Government Dinner, Johnson said it would be "utterly nuts" to deter foreign investment in the capital.
However, he made clear he appreciated the need to sort out the "desperate shortage of homes" in the capital, with almost 47,000 needing to be built each year just to keep up with demand.
"What I don't want to do is to follow the logic that I read from time to time and that is to slam the door again on the right of overseas residents to buy homes in London, notwithstanding the effect they may have in some parts of prime London on the market," he said.
"I don't think that is the right approach. I do not in any way want to deter international investment in our city. Quite the reverse: I want to encourage it.
"You can see astonishing transformations taking place in London thanks to international investment.
"We would be utterly nuts as a society if we did anything to turn that away."
Osborne confirmed in his Autumn Statement that non-UK residents would have to pay capital gains tax (CGT) on property sales from April 2015, in a bid to combat the "unfair" imbalance that meant British residents had to pay up to 28% CGT on their sales. The move is expected to raise around £40 million a year.
Johnson also used his speech to poke fun at the French and Germans, noting that the capital had so many French ex-pats that it was effectively the fourth biggest French city.
He quipped: "Any bigger, my friends, and we will have to worry about the possibility of a German invasion.
"For the benefit of all international diplomats here tonight, that's a joke. Don't panic," he added quickly.
"If things get too tough for you over there, just put on your famous crash helmet, get on your scooter and join the exodus to London where you will find, amongst other attractions, a civilised and gentle media who would never dream of being so vulgar as to discuss your personal affairs."