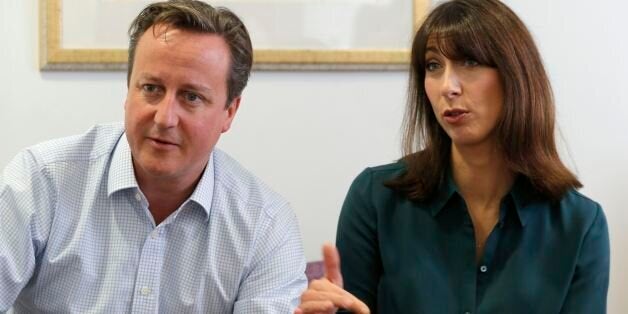 David Cameron has spoken out about the bad language in pop music and complained that his own children have picked up on swearing in hits.
The Prime Minister revealed he was quite strict about what Nancy, nine, Elwen, seven, and Florence, three, did for entertainment but could not prevent them listening to music which contained swearing.
In a highly personal interview with the Mail on Sunday Mr Cameron revealed the rules which govern the children's television viewing habits, including a ban on watching shows on weekend mornings.
"I try to get them away from the Disney channels to watch nature programmes,' he said. "We try to limit screen time. We have rules. At the weekend: no television in the morning.
"We don't do morning TV - they should be doing something," he said.
He said the children had not made the link between Miley Cyrus, who has stirred up controversy by "twerking" with Robin Thicke and appearing nude in the video for her Wrecking Ball single, and her previous career as the wholesome Hannah
"My children are too young. Luckily they haven't connected this lovely Hannah Montana, who is now this person twerking," he said.
But he had not been able to protect his children from some of the bad language in modern music, although he acknowledged he sometimes swore too.
"They say, 'Daddy, that's the bad this or that word'. They are very conscious of that and they don't approve of swearing.
"They are quite right - the artists are wrong to swear, although I can't say I totally live by those rules myself."
Despite the controls on his children's TV viewing, Mr Cameron admitted he watches "a lot of rubbish" and drives his wife Samantha mad by channel-surfing.
In the interview Mr Cameron also took a swipe at Newsnight presenter Jeremy Paxman over his book on the British empire.
Having recently read books on the subject by Paxman and Jan Morris he concluded: "Jan Morris' book was much better."
Mr Cameron also set out his views on the First World War, which has found itself back on the political agenda following a series of rows about the handling of commemoration events and the way the conflict is taught.
The Prime Minister said: "We should be clear that World War I was a war fought in a just cause, that our ancestors thought it would be bad to have a Prussian-dominated Europe, and that is why they fought.
"One can read the poems of Wilfred Owen and find them extremely moving but still understand why Britain went to war in 1914 and what the consequences would have been had we not."