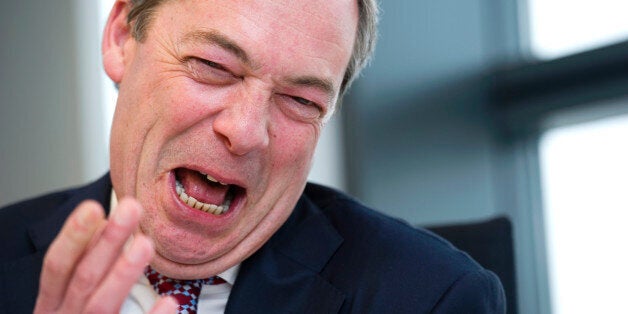 Five of Ukip's MEPs will not stand for re-election in May as leader Nigel Farage launches a clearout of "extremist, nasty or barmy" views from the party ahead of the polls.
In an interview with the Sun on Sunday, Mr Farage said new criteria to assess the performance of his party's 13 members of the European Parliament had led to changes.
"Some have been pushed and some have jumped," he said.
All 1,818 candidates running for the eurosceptic party are being vetted, Mr Farage said, while insisting that "of all the candidates we fielded, only about half a dozen have caused us any embarrassment".
The Ukip leader did not name the five MEPs who will not contest the poll.
Mr Farage's remarks come after a Ukip councillor blamed recent flooding on David Cameron's decision to press ahead with and pass gay marriage laws.
David Silvester, a Henley-on-Thames councillor who defected to Ukip from the Tories, said he had warned the Prime Minister of "disaster" if gay marriages were allowed.
And speaking on BBC local radio after his remarks were reported, Mr Silvester said he had been advised not to speak to the media any more.
He said: "I believe the Prime Minister, who was warned that disasters would follow if he went in this direction (of gay marriage), he has persisted and I believe this is largely a repercussion from this godlessness.
"The instructions I have got is from now on is just not to answer anybody and not to give interviews."
Elsewhere in his comments to The Sun, Mr Farage insisted the reason his political opponents focus on problem candidates is because "we are terrifying the political establishment".
He said: "We've got the potential to cause an earthquake in British politics. Tremors are afoot.
"If Ukip was to win the Euro elections by a margin, the ramifications on the other party leaders would be enormous.
"The Lib Dems are on the cusp of being wiped out. If that happens, what future has Clegg got?
"If the Tories have a miserable time, as the polls suggest, the pressure to get 46 signatures to challenge Cameron for the leadership will be strong.
"Miliband wants to present Labour as the party that will win the next election - an event that could be dented."