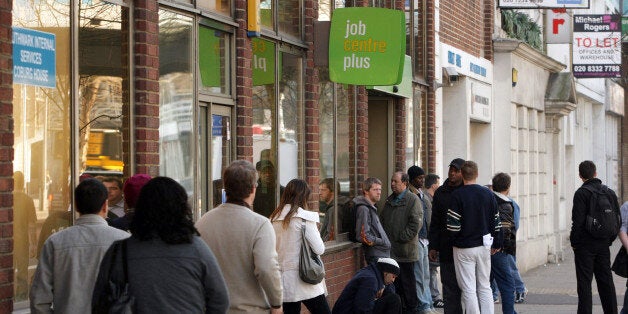 Unemployed people who lack basic English, maths and computing skills will face being stripped of benefits unless they take up training under changes proposed by Labour.
Under the plan, all new claimants of Jobseeker's Allowance would have to sit a basic skills test to measure their literacy, numeracy and IT ability within six weeks of signing on.
Those found to need improvement will be put on a programme of training aimed at getting them up to the standard required for steady employment.
Labour estimates around 300,000 people a year will be subject to the conditions of their basic skills policy, which will be set out by Rachel Reeves in her first major speech as shadow work and pensions secretary.
The opposition claims the plan will enable the needs of claimants to be identified at a far earlier stage than existing Government policies.
Reeves will say: "We all know that basic skills are essential in today's jobs market, but the shocking levels of English and maths among too many jobseekers are holding them back from getting work.
"This traps too many jobseekers in a vicious cycle between low paid work and benefits.
"Government plans in this area just aren't enough. They're now asking jobseekers who exit the failed Work Programme to take up literacy and numeracy training, three whole years after those people first make a claim for benefits.
"A Labour government will introduce a basic skills test to assess all new claimants for Jobseeker's Allowance within six weeks of claiming benefits.
"Those who don't have the skills they need for a job will have to take up training alongside their job search or lose their benefits.
"Labour's basic skills test will give the long-term unemployed a better chance of finding a job and will help us to earn our way out of the cost-of-living crisis."
Labour leader Ed Miliband said it was wrong to "demonise" people on benefits but there was a minority of people who could work, but were not doing so.
He told BBC1's Andrew Marr Show: "There is an issue about a minority of people who could work, but aren't doing so. That's why Labour has clear plans to say to every young person who has been unemployed for more than a year that they need to go back into work, and we'll make sure they get a job, and every older person unemployed for more than two years.
"But ... I don't think we should demonise every person on benefits. I think there are lots of people who are looking for work, who are desperate for work and who find that Britain is in the midst of a massive crisis of being able to find work in some places, a big cost of living crisis that our country faces."
The Tories said Chancellor George Osborne announced plans in the Autumn Statement to pilot a scheme requiring young claimants without the equivalent of a good GCSE in English and maths to undergo training.
Under the plans from day one of a claim, those without level 2 qualifications in English and maths will be required to do up to 16 hours per week of training alongside their job search or risk losing their benefits.
A Conservative spokesman said: "Labour are copying a Conservative policy that already exists and that is superior to the one they are proposing.
"After 13 years of Labour running our education system, many young people looking for work do not have the English and Maths skills they need to get a job.
"That's why, starting in some areas at first, anyone aged 18 to 21 signing on without these basic skills will be required to undertake training from day one or lose their benefits.
"And we are making the long-term changes needed to fix the system by requiring all young people who have not achieved a proper qualification in English and maths at 16 to continue studying these subjects until age 19.
"Without basic English or maths, there is a limited chance any young person will be able to stay off welfare. David Cameron's long-term economic plan will give young people the skills they need to get on in life and have a more financially secure future."
Reeves told the BBC Radio 4 Today programme: "These are tough policies. We are requiring people to do something for their benefits.
"But they are also fair, because they are giving the support to people to get back to work.
"We have got record levels of long-term youth unemployment. We need to help people get the skills they need to get into work, and then stay in those jobs."