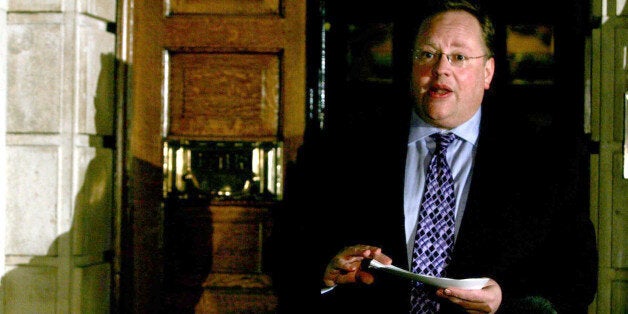 There is a worrying attempt by allies of Lib Dem peer Lord Rennard to "demonise women", the party's gender and equalities spokesperson in the House of Lords has said.
Nick Clegg has said it would not be appropriate for Rennard, the party's former chief executive and election guru, to take up his seat on the Lib Dem benches this afternoon without first apologising to the women who claim he sexually harassed them.
However Rennard, who has so far refused to apologise, has suggested he would take legal action if the party whip is not reinstated. The stand-off is being seen a major test of Clegg's authority over his party.
The LibDems have now suspended the peer's membership of the party pending a disciplinary procedure and he faces investigation for bringing the party into disrepute.
Lib Dem peer Baroness Hussein-Ece told The Huffinton Post UK that Rennard needed to apologise as it was "basic decency" and that the party did not "belong to an old boys network".
But she warned Rennard there were now many Lib Dem peers, including herself, who would not be comfortable with him retaking the party whip even if he did say sorry.
"At the moment I would find it very difficult," she said. "There are many women who didn't come forward, who wanted to remain anonymous. We needs to respect and support those women to make sure they have been listened to."
Lib Dem chief whip Lord Newby can decide to withhold the whip from Rennard. If they do then he would almost certainly appeal, triggering a vote of the party's peers whether to readmit him to the Lib Dem group in the Lords.
Clegg has also said that it would be a "defiance of basic decency", as well as of his own wishes, for his peers to readmit Rennard to the Lords if an apology was not forthcoming.
Hussein-Ece said the row showed the party's internal rules needed to be overhauled. "They need to be brought in to the 21st Century. We need to ensure that any sort of complaint, male or female, is dealt with appropriately."
But she defended Clegg against criticism that he was not taking tough enough action. "He is doing what he can, he has made his position clear from the beginning. He has tried very hard," she said. "He is bound by these rules, we are not party that is centralised."
"I am very concerned about women. We have been working very hard to attract support, to mentor and bring in women, new blood, into the party. This is not sending out a very good message that we are a party would support women if anything went wrong. I am very worried about the impact."
Hussein-Ece said despite the problems she had been "very impressed with large swathes of women" in the party who had been trying to "reclaim" the Lib Dems.
"The party doesn't belong to an old boys network, it belongs to everybody. You should be treated equally whether you are grassroots or a member of the House of Lords," she said.
Hussein-Ece also called for Lib Dem MEP Chris Davies to apologise for "outrageous" comments made while defending Rennard in a series of interviews.
Davies told BBC Radio 4's Westminster Hour on Sunday evening: "This isn't Jimmy Savile, it is touching someone's leg six years ago, at a meeting, through clothing.
"This is the equivalent of a few years ago, an Italian man pinching a woman's bottom. How much more must this man be made to suffer through the media condemnation that comes out day after day fed by the party leadership?"
Davies added: "The whole thing has become like the Salem witch trials."
Hussein-Ece told HuffPost UK: "I don't know what planet he is on. Would he want his wife or daughter, if he has one, to be subjected to any of this? I don't think this language belongs in the 21st century. He should reflect on what he said.
"I think he should apologise. I think its outrageous that an MEP thinks a bit of leg touching is ok, it's not ok. What sort of world is he living in? Is this sort of Benny Hill? Women being chased around the desk? He should apologise.
She added: "The Salem witch trials demonised women. That's what that was about. I can see an attempt to demonise women."
Hussein-Ece said there was a "small group who have a particular loyalty" to Rennard who should examine whether their "blind loyalty" was actually helping him. "Even if someone is your friend you should be able to draw the line," she said.