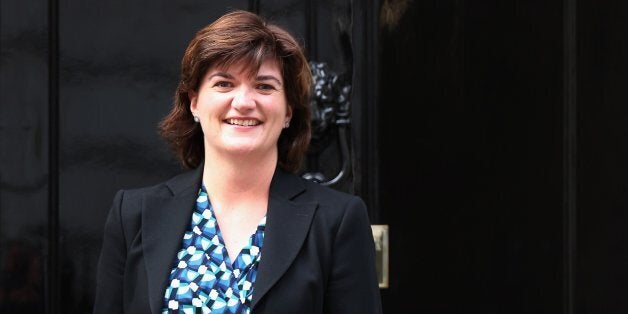 The Conservative Party needs to spend less time talking about people and things it hates and more time talking about those it likes, a Tory Treasury minister has warned.
Nicky Morgan, the economic secretary, said in order to win in 2015 the party needed to set out a "positive long term plan" - especially if it wanted to win over female voters.
Speaking at an event for Tory activists in Westminster on Monday evening, Morgan said the party needed to have a more constructive message than simply "we're against this, we're anti-that, we don't like them, we don't want them here, we don't want them doing this".
"If we talk about what we hate all the time, we're not talking about we like and what we want to do to help people who want to do well," she said. "We never say actually we are on the side of these people, we want this to happen and we think this is great."
She added: "We've got to think about what motivates us to announce our policies. Are we motivated to announce policies because we hate the person we are announcing about? Or are we announcing it because we are on the side of the person we are announcing about."
In making the comments, Morgan praised Times columnist Matthew Parris, the former Conservative MP, who recently warned about "haters" on the Tory right who wanted rid of David Cameron and would "eat him up and spit him out if they get the chance".
Parris wrote: "Haters in politics will always win more cheers than votes, except in times of great anxiety. The high-intensity instant hit that a headline-grabbing 'tough new stand' on immigration, the EU, pornography or whatever, may be more than matched by the gentle, un-newsworthy dripping away of confidence in a leader's knowing his own mind.
"We see him [Cameron] aiming kicks, mostly at things disliked by the Tory Right. He should remember that one of the things disliked by the Right is him. He is in danger of losing his friends on the progressive side of the party who may not be there for him when new allies on the Right betray him, as they will. "
Morgan, seen as a rising star of the party and who was promoted to the Treasury in October, was the guest speaker at the meeting hosted by the Bright Blue group, which campaigns for the Conservative Party to implement liberal, progressive policies.
The Loughborough MP said the Tories should not abandon the campaign slogans deployed in 2010 - some of which appear to have since been swept under the rug.
"I believe in people taking responsibility for their own lives," she said. "That's why I think the concepts of the Big Society and localism are so important and we should still be talking about them even though the phrases got a bit a little bit tarnished, they actually were absolutely the right things to be talking about."
The Treasury minister also bristled at Nigel Farage's claim there was "any discrimination against women at all" in the City of London and that women often chose to pause their careers for "biological reasons".
Morgan said: "I can sort of see what he says, up to a point, but when asked what would you do about it he says 'I cant change biology', which I think frankly is completely defeatist and pathetic for the leader of political party."
"I think Nigel Farage's comments are disappointing because government and other bodies can send the message that flexibility [working hours] has got to be the way forward, rather than saying 'oh that's just biology'," she said.
Popular in the Community