UKIP leader Nigel Farage is believed to have been hit over the head with a placard by an angry protester as he made his way into a hotel to meet supporters.
Footage from ITV Meridian showed the South East MEP being pushed and shoved by a group of people waving placards outside the Walpole Bay Hotel in Cliftonville, Margate, Kent, on Monday.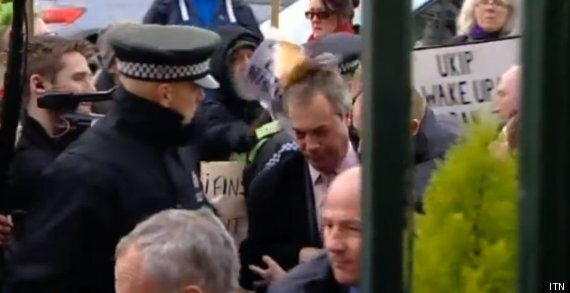 Nigel Farage said the attacks would not 'stop' him
Following the incident, Mr Farage told the regional news channel that he hoped it would not become a regular occurrence.
"This was actually worse than Edinburgh, because in Edinburgh they came along to make a noise.
"Here they came to bar me from actually physically entering this hotel, and with the intent to physically hurt me, so that's not very nice; don't like it, but that's not going to stop me."
Kent Police said they were aware of the incident and that someone had presented themselves at the police station.
A police spokeswoman said: "Kent Police is investigating after a 49-year-old man was reportedly assaulted as he entered the Walpole Bay Hotel, Cliftonville, at around 3pm today. The man is not reported to have suffered an injury.
"Officers will be reviewing CCTV of the incident. No arrests have been made and inquiries are on-going to locate the suspect.
"At 3.30pm another man attended the local police station to report that he was also assaulted at the Walpole Bay Hotel at around the same time of the incident.
"Officers are also investigating this assault and inquiries are on-going."
Related