Home Secretary Theresa May has been urged to ban a Hungarian extreme right leader from the UK, as he prepares to come to a meeting in London on Sunday.
Labour's Frank Dobson MP and Assembly Member Andrew Dismore, along with Jewish community leaders, have urged the Home Office and the Met to take action to prevent any potential unrest provoked by the arrival of Jobbik's Gábor Vona.
The event will take place on Sunday, on the eve of Holocaust Memorial Day.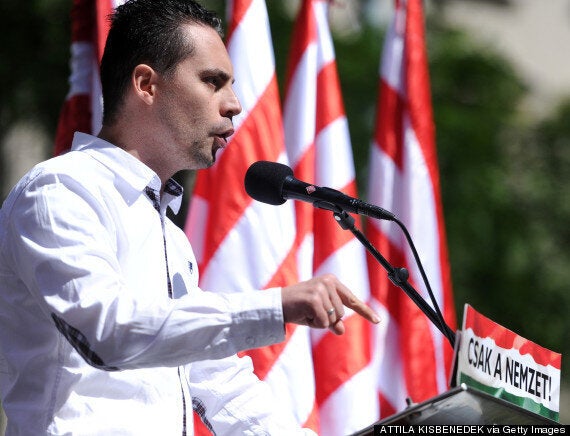 Gabor Vona, the leader of Hungary's Jobbik party
The party is the most successful extreme right organisation in Europe, with three seats in the EU parliament and 44 in the Hungarian Parliament. In the EU they are in a group with parties such as the BNP, Front National and Greece's Golden Dawn.
Members frequently use anti-semitic rhetoric. In November 2012, the party's deputy parliamentary leader, Márton Gyöngyösi, posted a speech where he said: "I think such a conflict makes it timely to tally up people of Jewish ancestry who live here, especially in the Hungarian Parliament and the Hungarian government, who, indeed, pose a national security risk to Hungary."
The party has strenuously denied allegations of anti-semitism or racism or any involvement in frequent street attacks against immigrants and other violence.
A Jobbik spokeswoman said the leader is hosting a forum for Hungarian citizens ahead of an upcoming election, but there is no plan for any kind of far-right meet-up. "He has no intention of meeting anyone from Golden Dawn or the British National Party. This is a forum for Hungarian citizens.
"There are lots of Hungarians living in London and the election is coming up in Hungary."
"The Home Secretary must take a stand to stop Jobbik's message of hate being broadcast on the streets of London. Jobbik are the most powerful outwardly fascist political party in Europe. Their level of support in the Hungarian elections shows how their message of hate has spread," Dismore said.
"Our Jewish and Roma communities in London, for whom Jobbik reserve special hate, need defending against their filthy ideas.
"All our residents need protection from the undesirable audience of far right activists he is likely to attract. I have no doubt that all decent thinking people will join with me in demanding that the Home Secretary says 'No to Jobbik'."
May has also been sent a joint letter from Jewish organisations, the Board of Deputies, the Community Security Trust and the Jewish leadership council. The letter said that Jobbik's presence in London is an "affront to the values we hold dear and is deeply disturbing to the British Jewish community, as well as other minorities.
"We also believe that this could prove damaging to British communal relations by importing prejudice from abroad in order to incite hatred against minorities here in Britain."
Anti-fascists Hope Not Hate said they were "working with its friends in Hungary and other in the UK to establish more accurate details of the event's location and expose the nazi meeting".
The meeting has also been reported to the Metropolitan Police.
Related