A man has been charged with assault after UKIP leader Nigel Farage was hit over the head with a placard by an angry protester.
Andrew Scott, 37, has been charged with assault by beating following the incident outside a hotel in Cliftonville yesterday, Kent Police said.
He has been freed on conditional police bail until he appears at Margate Magistrates' Court on March 3. Mr Farage was not hurt in the incident.
Footage from ITV Meridian showed the South East MEP being pushed and shoved by a group of people waving placards outside the Walpole Bay Hotel in Cliftonville, Margate, Kent, on Monday.
One man can be seen angrily jingling a purple tambourine in Mr Farage's face.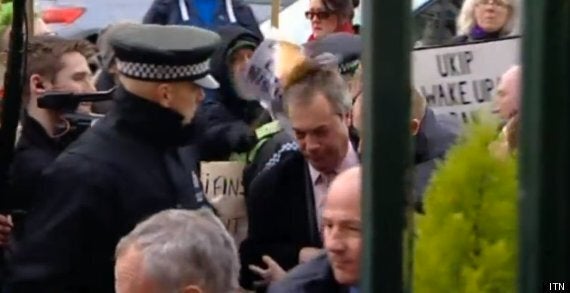 Following the incident, Mr Farage told the regional news channel that he hoped it would not become a regular occurrence.
He said: "It happened in Edinburgh last year and it happened here.
"This was actually worse than Edinburgh, because in Edinburgh they came along to make a noise.
"Here they came to bar me from actually physically entering this hotel, and with the intent to physically hurt me, so that's not very nice; don't like it, but that's not going to stop me."