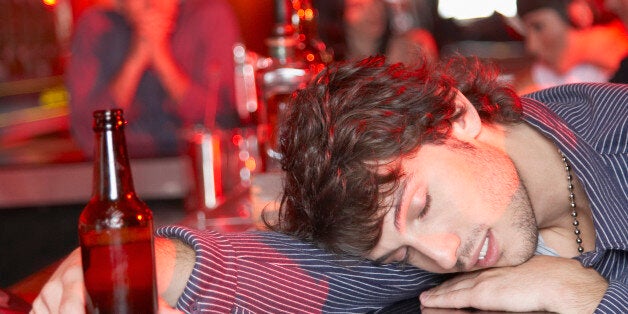 A university has warned its students they will be fined £200 if they are caught drunk at their student union bar, and even face a disciplinary hearing if spotted sloshed.
Anyone who buys a trollied student a drink will be fined up to £250, as will bartenders selling alcohol to anyone already inebriated. The new rules take effect in a bar on Lancaster University's Lonsdale College campus.
An email, titled Drunkenness Crackdown and sent by the college administrator, and published in the National Student, read: "Students found in Lonsdale Bar or coming out of Lonsdale Bar who appear to be drunk to a Porter, College Officer or Assistant Dean will be required to identify themselves and will be summoned to a disciplinary hearing."
The email added the crackdown would be repeated on any occasions where there are promotions on spirits.
A spokesperson for the university said: "The ban was not enforced and the bar operated normally. There was a great atmosphere from very early in the evening with large numbers having a great time with their friends and enjoying a drink. Lonsdale bar has been praised by the police for being run responsibly and we intend to keep it that way.
"The university only fines students where there is damage to property or persons."
Students at the college took to Twitter to vent their frustration:
Lizzie Roberts, a student at Lancaster, questioned the decision to introduce fines. Writing for student blog the Lancaster Despatch Box, she said: "Students of Lonsdale College received an ominous email from the College Administrator Juli Shorrock about a "Drunkenness Crackdown," leaving many students baffled with no explanation as to why this sudden order has been put in place.
"After the recent threat of closure to the Red Lion bar last year, surely this is the last thing the bar needs when trying to attract business?"
Students gathered in the bar on Friday to protest against the new fines - by getting drunk.
Student Lewis Donaghy, a bartender at the Lonsdale Bar, said the college management was "against" the bar's buy one get one free promotions.
"Students reacted (predictably) extremely angrily towards this ridiculous proposition. [College staff] wanted a boycott of the promotion, they tripled the number of customers. It was beautiful.
"Students are still extremely angry about this, with our Students' Union distancing themselves from the whole thing
"I plan to lobby our student union in order to make sure that blatant profiteering and preying on vulnerable students isn't so easy to do in the future, especially by the management of a body that is supposed to look after and represent us."
A statement from Lancaster's student union body read: "The Students' Union is currently still establishing all of the facts surrounding this policy and its implementation. Whilst we absolutely advocate sensible drinking and the welfare of our membership, we are incredibly concerned that policies such as this could deter students from using their college facilities, potentially damaging college spirit and the bar system which we have fought so hard to preserve.
"As more details emerge in this ongoing situation, we shall continue to act in the best interests of the students of Lonsdale College and the wider student body."
Related