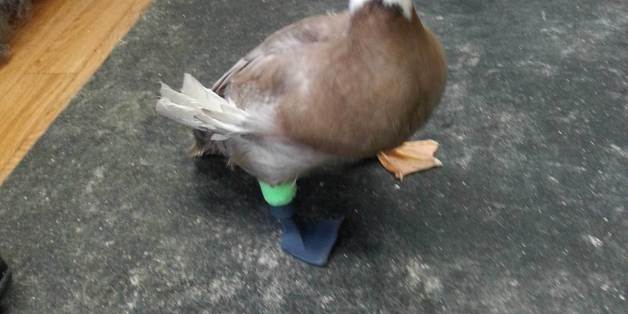 Terence Loring
A duck who lost a leg after he was attacked by an aggressive chicken is back on his feet thanks to 3D printing technology.
Dudley, the sole survivor after he and his siblings were set upon, is being cared for by K9-1-1 Animal and Rescue Services in Canada.
For months the duckling struggled along on just one leg, before designer Terence Loring came onto the scene.
Back in October Loring paid a visit to Dudley to look at options for the injured duck.
He told Global News: "It's easy to dismiss it because it's just a duck. But it blew me away, watching this little duckling.
"He's in pain but he's still trying to get around.
Scroll down for a video of Dudley's journey
Loring designed the new leg free of charge in collaboration with 3D printing company Proto3000 and Sandback Technical Design and now five-month-old Dudley is as good as new.
And he's proving a hit with the chicks too, with Loring telling HuffPost BC: "His nickname is, from what I hear, Studley Dudley."
3D printers squirt molten plastic to produce 3D shapes of whatever design has been downloaded.
The model parts can then be converted to become anything – from firearms to models of your unborn foetus.