CNN has been blocked in China after cameras captured police "kicking, punching and pushing" a reporter who was covering the trial of a human rights activist and law lecturer in Beijing.
David McKenzie was physically cut off from entering the court room for the trial of Xu Zhiyong, who was arrested in July for organising protests against corrupt government.
"This is a public space, I'm allowed to report. I'm allowed to report," McKenzie was heard saying to a uniformed police officer in footage broadcast by the network, but then plain clothes men arrive.
The violence escalated and he was eventually shoved him into a police van with the camera crew who continued to film.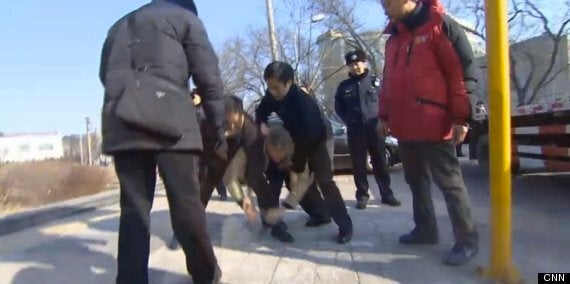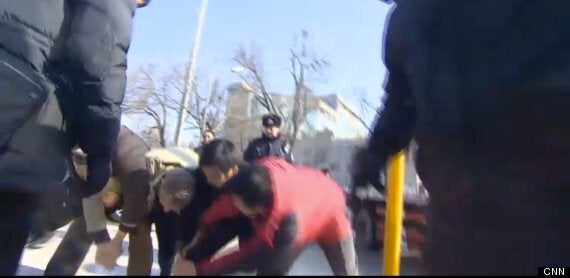 Chinese police attempting to remove the CNN reporter
McKenzie kept talking to the camera: "They're physically manhandling us, they're physically manhandling me," he said.
Police ripped off the viewfinder from the CNN crew's camera but the footage was undamaged.
McKenzie said in a broadcast later that night that CNN's signals within the country were blocked by authorities so Chinese nationals couldn't watch their broadcast.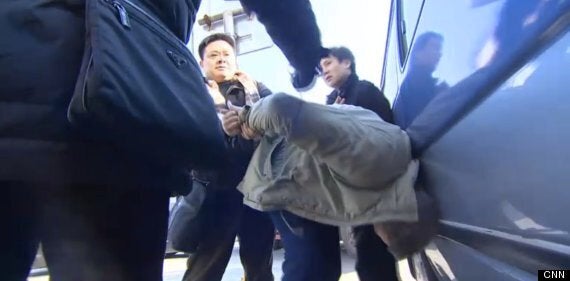 McKenzie and the crew were put in a police van
"Often it's not so much reporting to the rest of the world that's an issue. It's they don't want us reporting to China and Chinese nationals," he said.
Xu was arrested for protests last summer looking at favours offered by China's ruling party, including allegatiosn that President Xi Jinping allowed his brother in law to set up companies in the tax haven of the British Virgin Islands.
Xu is charged with "gathering crowds to disrupt public order".
Popular in the Community