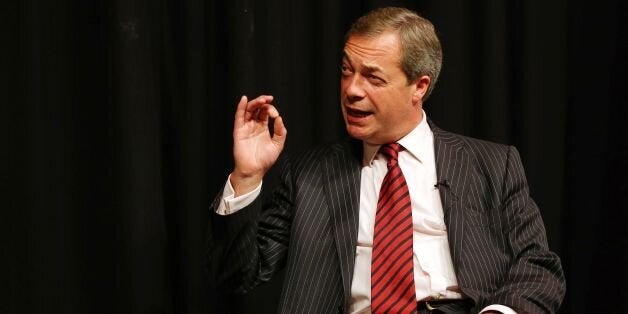 Nigel Farage has admitted if Ukip fails to perform well in the upcoming European elections then he would be ousted as leader of the party.
He also predicted that their parties could oust both David Cameron and Nick Clegg this summer if they led them to bad defeats in the polls.
In a characteristically colourful speech to the London School of Economics on Thursday evening, Farage said he had staked everything on this May's ballot, which Ukip are widely tipped to win.
"My future as leader of Ukip is pretty dependent on the results of these elections in the sense that I have now, for nearly three years, been very optimistically and bullishly talking up Ukip's prospects, saying that there was a chance we would win the European elections," he said. "Which was greeted with laughter as most things I say usually are."
He added: "Some see me as a bit of a gambler and they are right, in the sense I have taken the assets of the party and placed them on red. So red needs to come up.
"And if Ukip was to do poorly and Ukip was to trail back into third place then I think that would be curtains for me as leader," he said.
The party came second in the last European parliamentary elections in 2009. Farage is hoping to capitalise on anti-EU, anti-immigrant and anti-establishment sentiment to propel the party into the top spot this year.
But as Tom Mludzinski, from the market research company Ipsos MORI, notes a Ukip victory is far from certain. "Much will depend on the mood of voters at the time," he said. "And with the economy improving and public optimism increasing, the frustration of voters and unpopularity of the government that Ukip has so effectively harnessed may not be such a big factor."
Farage also boldly claimed that both Cameron and Clegg could face leadership challenges this year if the Conservatives and Lib Dems do badly in the polls.
"I've spoken to Tory MPs in the North of England who know unless something big changes they are gonners," he said.
"I would suggest that these elections matter to Cameron because they will highlight the strategy laid out with his speech last January [where he pledged an in/out referendum] isn't working."
Farage added: "But it really matters to Cameron because if those people think their leader does not look like a potential winner then the prospect of 46 signatures being gathered on the backbenches over the course of the summer months are perhaps rather higher than most commentators are currently giving credit for."
For a leadership challenge to be launched against the prime minister 46 Tory MPs have to send a letter calling for a vote of no confidence in him to the chairman of the party's backbench 1922 committee.
Farage said: "If you really think you've got no chance of winning your seat then you're looking that a change of leader perhaps is necessary."
Clegg was seen to have exerted total control over his party at the last conference in September and despite the Lib Dem's dismal poll ratings his position is seen as pretty secure. However Farage said this would change the deputy prime minister led his colleagues to a disastrous result in May.
"Let's say the Lib Dems poll 8% of the vote. That will probably return then one MEP. They are currently on ten. They really are on a knife edge here," Farage said.
"There is a distinct possibility that the Lib Dems will get wiped out. And I think if that happens the Lib Dems will be looking for a new leader before the party conference season comes along."
However Farage did praise Clegg for making it clear that the Lib Dems were pro-EU. "Full credit to Clegg, he intends to fight the election on an open clear manifesto, and I do at least respect that."
Farage told the audience at the LSE that while he thought the elections were not as crucial for Ed Miliband, one effect of a Ukip victory would be to force Labour to commit to an in/out referendum were they to win the general election in 2015
The Ukip leader also predicted that Cameron, if he survived as party leader and managed to win a majority in 2015, would be able to scrap his pledge to hold a referendum on Britain's EU membership.
He said: "If he was to win a majority it would be quite difficult for him to weasel out of it this time. I think the Conservative Party in the House of Commons is now in such a rebellious state that he would not be able to backtrack."