Dean Hancock, 37, was released on bail and will appear at Fareham Magistrates Court on February 12.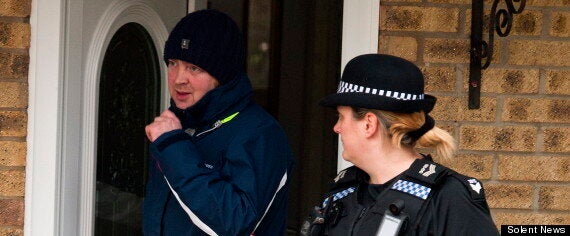 Police have arrested a 37-year-old man
She suffered a mental health disorder and had been sexually abused as a child.
Her solicitor, Harriet Wistrich, said that it had taken the Lib Dem leadership three years finally to take action after the complaints about his conduct first came to light.
The latest row is a further blow to Lib Dem leader Nick Clegg who has been struggling to contain the fallout from the case of Lord Rennard, the party's former elections supremo, who is alleged to have sexually harassed a number of women activists - a claim he denies.
Although Hancock - who denies the allegations against him - voluntarily resigned the parliamentary whip last year while he contests a High Court civil action claiming sexual impropriety, he continued to sit as a Lib Dem member of Portsmouth City Council.
Ms Wistrich said that repeated attempts to get the Lib Dems to take action over her client's allegations had come to nothing.
She disclosed that in February last year she had received a letter from the office of the Lib Dem chief executive informing her the party "would not commence any investigation or take any other action in respect of the matter that you have raised".
After a Hampshire police investigation concluded there was no case to answer, Portsmouth City Council launched an inquiry into whether Mr Hancock had breached the council's code of conduct, but that has now been put on hold pending the outcome of the civil court action.
"There seems to be a pattern here of Lib Dems not dealing with the matter," Wistrich told Sky News.
"My client's wish is for him to be held properly to account for his misconduct. We are exploring all avenues. It has taken us three years to reach this stage because every time she has gone down one regulatory procedure or another there's been no investigation or no decision made.
"I think that the Lib Dems have very belatedly suspended him from party membership, the council have been appalling in not taking action earlier. He still is a councillor, they could proceed now with the allegations that he has breached their council code of conduct."
Wistrich said that her client was particularly concerned because Hancock had remained "a very active member of the party and an active Lib Dem councillor".
"She is trying to seek for action to be taken particularly because he is a person in the public eye. She lives in Portsmouth, he appears regularly in the Portsmouth media as an active person. She sees somebody who she accuses of having been abusive towards her still holding public office," she said.
The woman has criticised local Liberal Democrats, including Cllr Gerald Vernon-Jackson, the leader of Portsmouth City Council, for failing to take action against Mr Hancock.
She told The Portsmouth News: "Cllr Gerald Vernon-Jackson, Terry Hall and Les Stevens should all hang their heads in shame. The Liberal Democrats could have done something about it ages ago.
The woman said she was frustrated that the Liberal Democrats had not taken action after she gave evidence to Alistair Carmichael, the party's chief whip, following Mr Hancock's resignation from the parliamentary whip last year.
She said: "I was overwhelmed that Nick Clegg decided to do something about it, but considering that Alistair Carmichael had quite a lot of information to go with, something should have been done then.
"I have been let down by all the authorities."
But local Lib Dems in Portsmouth have continued to voice support for Mr Hancock, accusing the party leadership of suspending him without due process.
"We believe in proper and due process and that as there is an ongoing court case, it is the court that should rule first, having considered all the evidence, not the media or internal panels," said Simon Dodd, the chairman of the Portsmouth Lib Dems.
"Mike Hancock has loyally represented the people of Portsmouth for over 40 years and he will continue to serve as an excellent constituency MP and as a councillor."
His comments are a further headache for Clegg who has been desperate to show the party takes allegations of sexual impropriety seriously after an internal review found there was insufficient evidence to take disciplinary action against Lord Rennard.
The latest crisis was sparked by the leak of a report drawn up for Portsmouth City Council by Nigel Pascoe QC as part of its code of conduct inquiry.
In it, he said that he had no doubt that the complainant had provided "compelling prima facie evidence of serious and unwelcome sexual behaviour" carried out towards her by Hancock.
He also said that the case "should have been addressed definitively a long time ago", adding: "For the avoidance of doubt, I consent to the full and unabridged publication of the report."