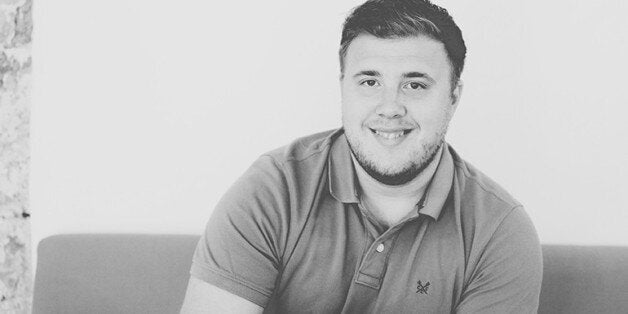 Luke Taylor started up his first business at the age of 20 while studying graphic design, in an experience that just left him wanting to strike out properly after university as an entrepreneur.
Setting up shop in an office in Sussex, Taylor launched a creative design agency with his friend at the age of 24, and two and a half years later, his agency has taken broken out of the UK as it has taken on clients across Europe and is preparing to launch brands in South Africa, Kenya, Nigeria and America.
Aside from his agency, Pixeldot Creative, Taylor has invested in a range of businesses from gourmet food to an estate agency.
With Pixeldot Creative, shortlisted as the best new agency in the world in the industry's Web Awards, he spoke to HuffPostUK about what has driven him so far, and where he plans to go next.
So Luke, how did you decide to start your first business, Free Range Graphics?
I have wanted to run my own business since the age of 12, I remember at school when it was time to choose my future courses thinking "what am I going to need to run a creative business" and I took the courses that I felt would lead me down the career path I wanted. I have wanted to run a design agency since then.
When at University studying Graphic Design I decided that my studies wouldn't be enough to help me start a business, therefore I took the decision that if I wanted a business what better time to start than when you have low risk, so during University I set up my first business Free Range Graphics.
I ran Free Range Graphics alongside my studies and took on my first handful of clients - being competitively priced and being honest with clients so they knew my situation. I have never been work shy and running a business alongside university meant I had a small taste of the level of commitment needed to be your own boss.
How have you raised the money to start off on your career?
I knew with my decision to start a creative business the tools you need are: Creative thinking, handwork and a Mac! I was lucky that my parents had purchased my first Mac for university so I was all set.
I worked from my house, coffee shops, libraries - literally anywhere I could work from without incurring overheads until I could afford them.
I built up around 10 regular clients initially which allowed me to progress to an office space and continue to expand my portfolio.
Tell me how you decided to branch out into your other businesses...
After a couple of years of running Free Range Graphics I met my business partner Jan Rust. We worked collaboratively on a couple of projects and I saw the opportunity to move my business forward with him. We merged our creative businesses and formed Pixeldot Creative .
I have a passion for knowledge and understanding - if a business or industry intrigues me I want to learn about it, and I know the best way to find out about an industry is to be part of that industry.
How well are you doing in business? Any figures?
With Pixeldot, we have doubled our turnover and profit year of year and estimated to do the same again this year.
What inspired you to be an entrepreneur?
I have always wanted to be an entrepreneur - but if I think what my first thoughts about business where, they were of my dad. I always remember looking up to him as a businessman, being taken to events with him and introduced to the world of business - the skill of speaking and engaging with new people and building up a rapport quickly. He taught me from an early age that if you work hard you can get where you want to go.
What is your ambition as an entrepreneur?
I know this will sound cheesy but it's the truth and I am proud of it - my ambition as an entrepreneur is to make my family proud - everything I do is to make a better life for my fiancé and son.
I know that if I give my all into every project and I push myself to do bigger and better things, then my family will have the stability to reach for their goals. I want to be a role model that my son looks up to, like I have with my father.
If I could sum up my ambitions it would be - to make a career that gives me the freedom to enjoy life and my family. Working for yourself is extremely hard but the rewards are worth the bloody, sweat and tears.
Popular in the Community